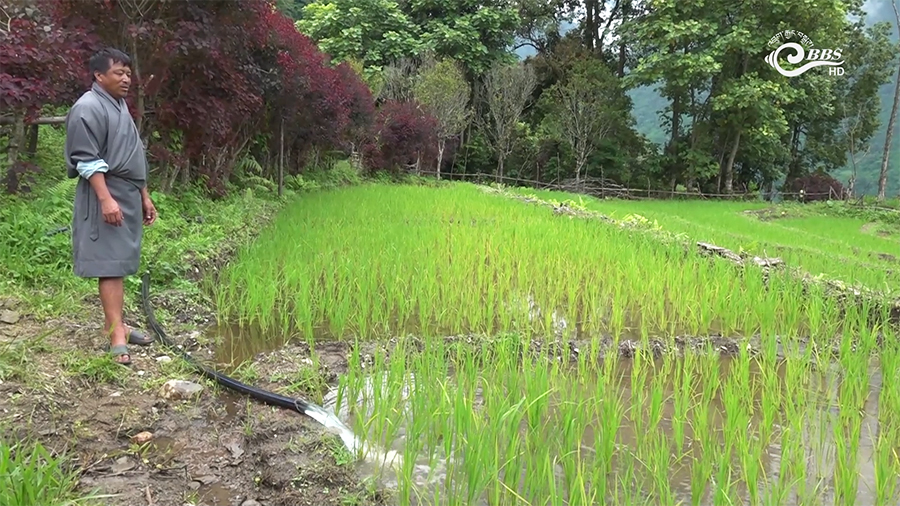 Farmers of Orong Gewog in Samdrup Jongkhar are still waiting for their damaged irrigation channel to be restored. The irrigation channel was damaged about 12 years ago. And while the wait continues, most of the farmers have given up on paddy transplantation due to lack of water. But one farmer has decided to take matters into his own hands and connected his farm with water. Taking inspiration from him, other farmers are also showing interest in paddy farming.
A road construction project in 2011 damaged the irrigation channel that supplied water to Chongtey, Mitsigshing, and Milum villages in Orong gewog.
Since then 17 households have stopped cultivating paddy on over 13 acres of wetland.
But for Jigme Rinzin from Chongtey village, he found his own way to challenge fate.
It has been four years since he used water pipes to irrigate his half-acre land.
"I requested water pipes from the Gewog administration but they told me that there should group of villagers who want to cultivate paddy. I did not get any support despite requesting them four to five times. So I have invested whatever I have to connect water here spending over 95,000 ngultrum to buy the water pipes," said Jigme Rinzin.
Moreover, he has come up with an ingenuitive idea to chase away wild animals using irrigation water.
While the other villagers buy imported rice, Jigme no longer depends on it.
The other farmers either grow maize and vegetables on their farmland or have left it fallow.
"We are not able to restore it since the source is small. There is seepage when the water flows in an open canal so, we need pipes to bring the water here. Right now, about 5 to 6 households are interested but if an irrigation channel is provided more people will be interested," said Jigme Dorji.
"Before we used to grow rice, but with the road construction, the irrigation channel was damaged. We do not have any alternative to bring water here so, if the government provides us with water pipes, we would be grateful," said Sangay Rinzin, a farmer.
"We cultivated maize after the irrigation channel got damaged. I have decided to cultivate paddy if the irrigation channel is restored," said Cheni Dema, another farmer.
The Orong Gewog agriculture extension officer says they planned to restore the irrigation channel in the 2015-2016 financial year. But it was cancelled after the office found that not many farmers were interested in cultivating paddy.
But there is good news. The Orong Gewog administration is planning to restore it in the next financial year. Around six farmers have shown interest in resuming paddy transplantation.
Kinley Wangchuk, Samdrup Jongkhar
Edited by Tshering Zam