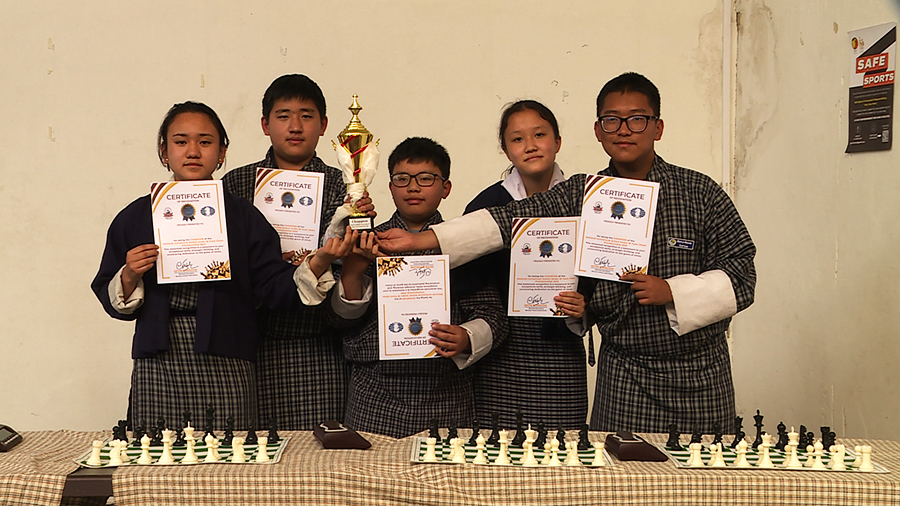 The DTS ULTIMATE FIVE from Dr Tobgyel school in Thimphu won this year's National Invitational School under-18 Team Chess Championship. Eight teams from Paro, Thimphu and Wangdue Phodrang participated in the tournament. Bhutan Chess Federation organised the first-ever championship which ended today.
At the two-day championship, team TRA Two from the Royal Academy and team Motithang Two from Motithang Higher Secondary School came second and third. Eight teams with five members each took part in the championship.
According to the students, although they are interested in playing the game, they are having difficulties managing their time as they have to focus on their studies.
''In school, we don't have much time as the exams are coming up soon. Normally, after the bell rings for a tea break and lunch break, we all meet each other and do a couple of puzzles. And we also play a few chess games with each other just for practice. I feel very happy that we won this tournament," said Lhundrup Minjur Dorji, winner of the National Invitational School U-18 Team Chess Championship.
"This is my first experience on an occasion like this. I am facing many challenges, one of the challenges is the time while playing chess. But it is a great opportunity for me to participate in the game," said Kuenlay Tshering Dolkar, runner-up of the National Invitational School U-18 Team Chess Championship.
According to the Bhutan Chess Federation, the winning team from this tournament will be selected to compete in the first-ever World School Team Championship organised by the International Chess Federation (FIDE) in August this year in Kazakhstan.
''To select the best team to represent our country at the world FIDE Team Chess Championship which will be held in Kazakhstan and to find new faces and hunt the talents of our young youths," said Dechen Dorji, Tournament Director.
He said that 50 countries will be able to compete in this tournament upon meeting three conditions that include first come, first served basis registration, being a member of the International Chess Federation and sending the report of the current championship.
However, he added that if Bhutan misses this opportunity, the federation will reorganise the tournament and select the top ten players to participate in the Bhutan-US Friendship Bridge tournament which will also be held in August.
Karma Wangdi
Edited by Tshering Zam