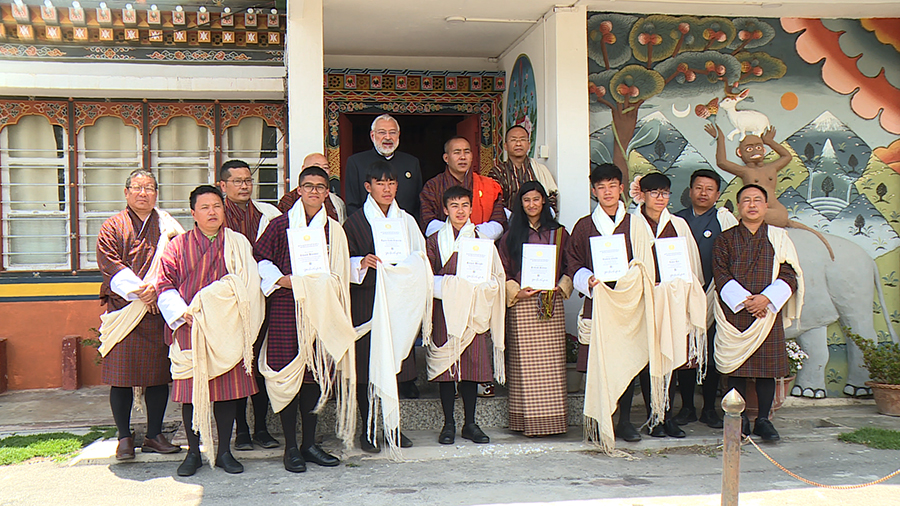 Six students who excelled in an online mathematics test were awarded the first ever "His Royal Highness Gyalsey Annual Mathematics Award" in Thimphu today. The test was conducted on 1st November last year among interested students of higher secondary and middle secondary schools across the country. The Education and Skills Development ministry launched the award last year in collaboration with the Druk Gyalpo's Institute.
The Education and Skills Development Minister Jai Bir Rai presented the award to the winner.
In the Middle Secondary School category which includes class nine and ten students, Vedanth Bhandhari from Loselling Middle Secondary School in Thimphu took the first prize. Sangay Wangdi and Ugyen Zimba from The Royal Academy in Paro came second and third respectively.
"I want to take up a degree in data science which heavily relies on math and I also want to learn a lot of coding and technology for AI development and I think that also requires a lot of math skills. Now more and more people want to learn math because the future is geared towards technology and STEM subjects. So I think, math is an extremely important subject," said Ugyen Zimba, HRH Gyalsey Annual Mathematics Award Recipient.
In the Higher Secondary School Category which includes class 11 and 12 students, Prakash Sundas from Sarpang Higher Secondary School stood first followed by Rohan Rai from Ugyen Academy in Punakha. Thukten Choida from The Royal Academy came third.
"I think this kind of recognition is really important for me as well as for others because it encourages others to take part in these kinds of competitions and at the same time, it is a really good opportunity for me to challenge myself to be better," said Thukten Choida, HRH Gyalsey Annual Mathematics Award Recipient.
"Mathematics is the fundamental and the basic element for all other STEM-related professions, so despite the importance we see our students not taking too much interest in mathematics. So through such kind of events, we wanted to firstly identify the talents and secondly encourage the children to take up mathematics," said Yeshey Lhendup, Deputy Chief of STEM and Innovation Division of Education and Skills Development ministry.
Besides being given the title of 'National Mathematics Champion' along with a certificate of merit, they will also be awarded cash prizes. The prize amount for first-position holders is Nu 150,000. The second and third position holders are given Nu 100,000 and 75,000  respectively.
The event not only highlights the immense importance of STEM subjects in everyday life but also serves to foster and nurture the innate skills of talented individuals.
Tshering Deki
Edited by Kipchu