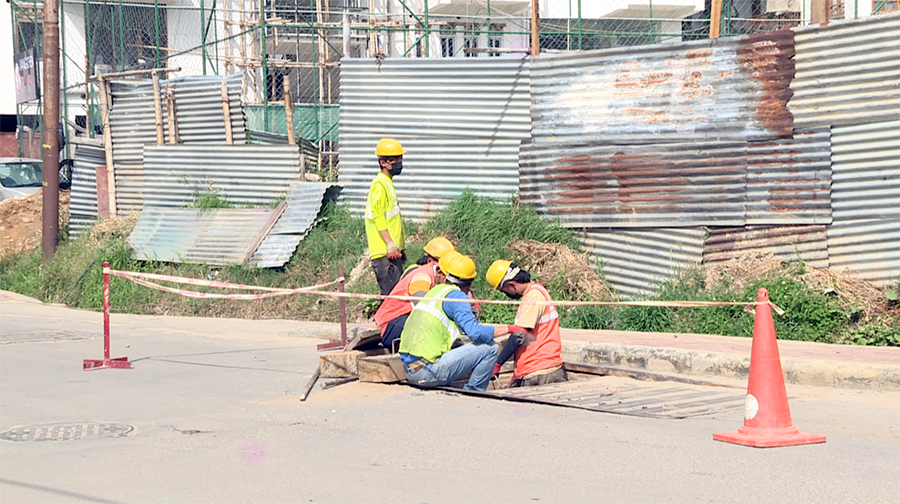 In a few years, Thimphu City could be free of overhead electrical cables that are not only displeasing to the eyes but are also vulnerable to electrical hazards. The Bhutan Power Corporation is installing electrical cables underground in the district. According to the BPC, underground cables are safer and more efficient, as they cause less disruption and require less maintenance compared to overhead cables.
The BPC is currently installing the cables underground at Babesa, Langjophakha, Hejo and Babena. The work started about three months ago and is expected to finish by next year.
The installation of underground cables in other areas of Thimphu will be carried out in a phase-wise manner and is expected to take a few years. The work is being carried out gradually due to the limitations posed by the winter season.
BPC officials said that installation work is not feasible during the cold season due to insulation challenges and increased power usage.
The office initially started the underground cable works in Thimphu more than 30 years ago but could not be completed due to the expansion of the town.
"The underground cabling started in 1988 and it went out till 1990. So, that was the first phase we had underground cabling. It was done under the sub-transmission and distribution project," said Karma Chhopel, the general manager of the distribution and customer service division under the BPC.
The installation work is being executed by contractors. According to a site engineer, they are facing challenges clearing the cable ducts, and plot owners refusing to cooperate.
"The challenge that we are facing is that since the cable ducts were constructed a few years ago, it is filled with muddy water. We have to clear the ducts with water pipes and rods before we install cables," said Karma Tobgay, Site Engineer, at Thuensum Builders.
"Well doing underground comes with lots of challenges. Firstly, is the right of way issue. The right-of-way issue is when we have to do unground cabling, we have to dig it along someone's property and this is very difficult to obtain. Because these days now the people want the facility, but they don't want the cables running through their boundary or property," added the general manager.
BBS talked to some residents of Babesa who welcomed the initiative while sharing concerns about the overhead cables.
"It is risky as the BPC cables are hanging near the roadside and some wires are uncovered. Similarly, there are different cables hung around a pole which is very unsafe for children," said Gyaltshen, a resident.
"The cables pose a risk, especially for young children who may unknowingly touch them during rain and get electrocuted," said Karan Gurung, another resident.
As of now, BPC has laid the underground cables in Phobjikha at Wangdue Phodrang, Talo in Punakha, and Phuentsholing and Samdrup Jongkhar.
The office is also planning to start work in Gelephu and Paro town.
Tashi Dekar
Edited by Tshering Zam