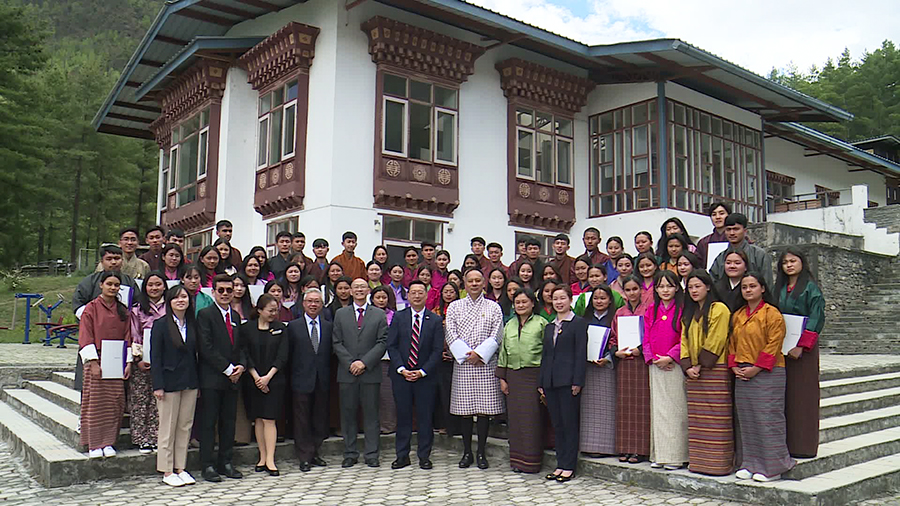 Sixty-six students will be studying nursing in Singapore through the Asian Nursing Scholarship next year. A deed was signed between the recipients and Singapore's Ministry of Health Holdings in Thimphu yesterday. The students will have to work for six years in Singapore after graduation. This is the third batch of students receiving the fully funded scholarship. It was started three years ago with 11 recipients.
The students will join the college in Singapore in April next year. As part of the bond, they will be working for Singaporean hospitals upon completion of their three-year diploma course.
For the selection process, class 12 marks are taken into consideration. Students have to score 70 per cent and above in science, English and mathematics. For students who dropped mathematics in twelfth grade, their class X mathematics mark is considered but the score has to be above 70 percent.
Candidates will then have to sit for an English language proficiency test before a final oral interview.
"I believe this is a very good opportunity for me to grow and learn so many new things in a way that can also help my career. But not only for my career but also to help my country after a couple of years when I am done studying. Not only will I study hard but work even harder to help the country to the best of my abilities after I am done with the scholarship," said Rinchen Khandu Namgyel, scholarship recipient.
"ANS is a platform to reach the other world. So, I am very happy, grateful to the Singaporean team for giving me the opportunity," said Tshering Zangmo, another scholarship recipient.
"I am really happy for my daughter who is one of the recipients of the scholarship. This is a rare opportunity and 66 students have been granted the nursing scholarship. For that, we parents are exceedingly happy," said Ugyen Tshering, a parent.
Singapore has almost doubled the intake this year from 34 last year. The second batch is currently undergoing their studies in Singapore. Singaporean officials shared that the intake has been increased because of the good performance of the first batch.
"One of the reasons why we have increased the number that we want to offer is because of the first batch of Bhutanese students, 11 of them did very well in their academic performances," said Karman Yuen, the deputy director of the Healthcare Manpower Division, Singapore.
The first batch of students are currently in their second year. With this, there will be 111 Bhutanese students studying nursing in Singapore through the scholarship.
It is announced yearly by the Ministry of Education and Skills Development.
Devika Pradhan
Edited by Kipchu