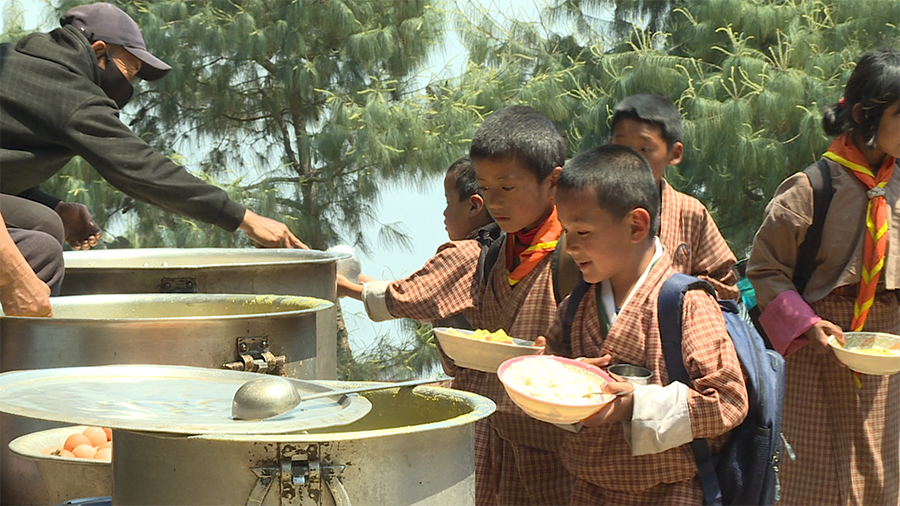 In a promising initiative that links farms to schools, farmers of Yangkhartshing and Bazor villages in Monggar are supplying vegetables to the students of Dradmetse Central School. The programme has not only enabled farmers to sell their produce without marketing issues, but it has also allowed the students to consume healthy and nutritious food. Our reporter Karma Wangdi has more on this innovative approach towards promoting food nutrition.
17 farmers of Yangkhartshing Sanam Tshoesay Detshen have been growing organic vegetables for the students of Dradmetse Central School since 2017.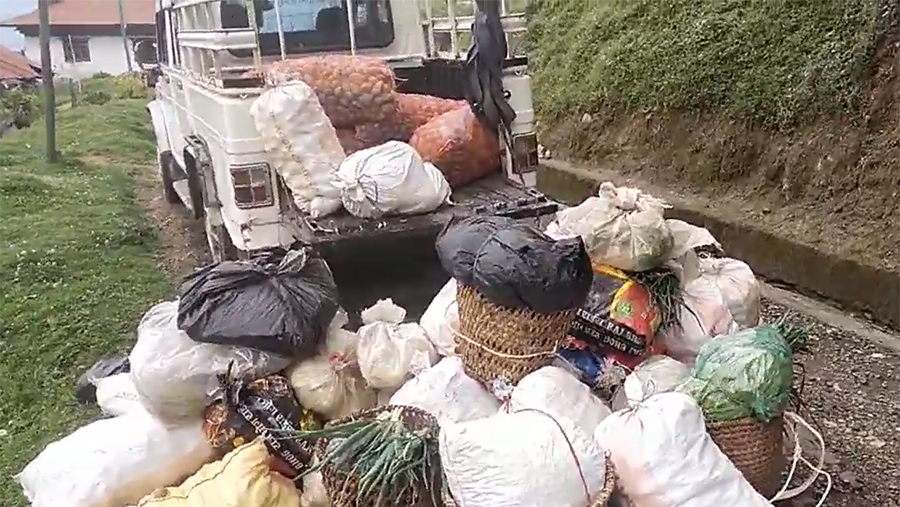 They collect their vegetables in a group and take them in bolero pick-up trucks to the school twice a week.
Farmers grow a wide variety of vegetables, including potatoes, cabbages, pumpkins, spinach, tomatoes, and many more.
Similarly, Bazor Sanam Tshoesay Detshen which has 13 members also started supplying vegetables to the school in 2017.
By linking farms to schools, the initiative is addressing the challenges of food nutrition in remote areas where access to healthy and nutritious food is limited.
"For the school, we get organic and ready-made fresh vegetables so which are actually very nutritious and we always believe that our school here students receive fresh and they also receive balance diet food. We feel that way. So in that view, we feel that we are actually having a great benefit for the school," said Kuenzang Chophel, Principal of Dramedtse Central School.
The programme has become a source of income for the farmers, with each group earning between 60 to 70,000 ngultrum per month. To ensure that the vegetables sold in the school are organic and not imported, each farmer can only supply up to 30 kg per individual. This has not only promoted food nutrition but also encouraged sustainable agriculture practices.
''Our children get to consume what we cultivate. Also, we don't have to go around to sell our products, we just receive our monthly payments like a civil servant's salary," said Ugyen Zangmo, a member of Yangkhartshing Soenam Tshoesay Detshen.
"In the past, we had no proper market to supply our products, today with the establishment of such an initiative by the government, we don't have to face difficulty in selling our products," said Tsheltrim, Chairperson of Bazor Soenam Tshoesay Detshen.
The School also buys fruits and dairy products from the local farmers.
Dramedtse Central School has more than 713 students including almost 390 boarding students.
This innovative approach towards promoting food nutrition is an excellent example of community collaboration and sustainable agriculture.
The farmers are now able to earn a decent income while contributing to the health and well-being of the students.
Karma Wangdi, Monggar
Edited by Yeshi Gyaltshen