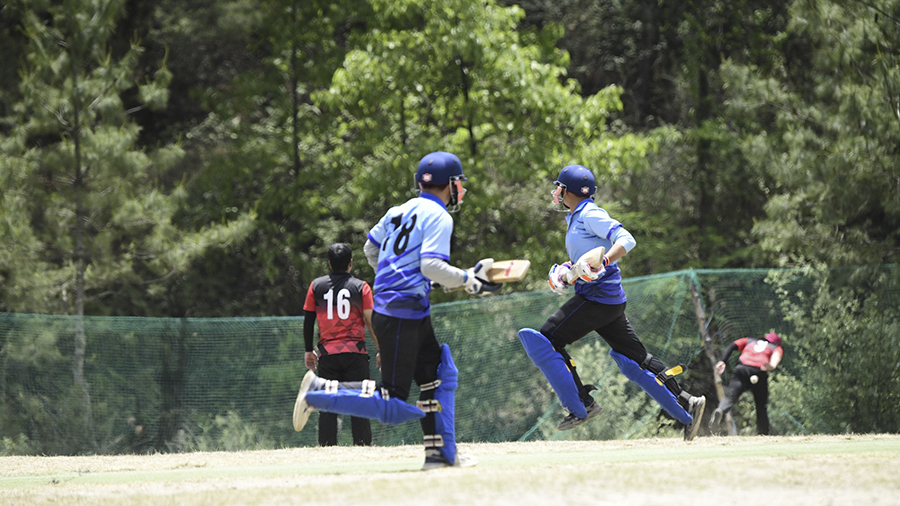 Nine teams are battling it out at the Jigmethang Cricket Ground in Dechencholing, Thimphu to win the Bhutan T20 Smash 2023. This is the first time the T20 league is hosting 40 matches. Apart from winning the league, players have a grander price in sight, a spot in the senior men's team to play the T20 World Cup Qualifiers in July in Malaysia.   
The nine teams have players from Thimphu, Samtse, Punakha and Paro.
At the end of the league round, the top teams will qualify for the semi-finals. Currently, SKD All Stars, Paro Blue Moon, Dragon Strikers and Druk Chargers are occupying the top four spots.
"We have to conduct 40 matches because we had to fulfil the ICC criteria for playing tournament matches. Then, through league matches the players will gain experience. Thirdly, each team will have to play eight matches, which will us help select players for the national team," said Yeshey Choden, tournament coordinator.
Since the players include students and working adults, all matches are played on weekends.
Yesterday, Paro Blue Moon defeated Dantak XI by 42 runs in the morning match. In the afternoon, SKD All Stars beat Team Academy by 158 runs.
Players say the biggest challenge yet remains the facilities available for the players.
This tournament is going to help a lot of Bhutanese cricketers because we have already seen a lot of young talents coming up. And if Bhutan cricket keeps organizing a lot of tournaments like this, each time they organize, there are like ten good players who come out we never know about. So, I think this one was fruitful having said that the facilities have to improve. If everything is there, I think the Bhutan cricket will do well," said Mikyo Dorji, a player from SKD All Stars.
In today's matches, Druk Chargers defeated Team Academy by 78 runs in the morning. In the afternoon, the match between Paro Blue Moon and Hits Karva was abandoned due to rain.
The final will be held on the 25th of June.
Singye Dema
Edited by Sherub Dorji