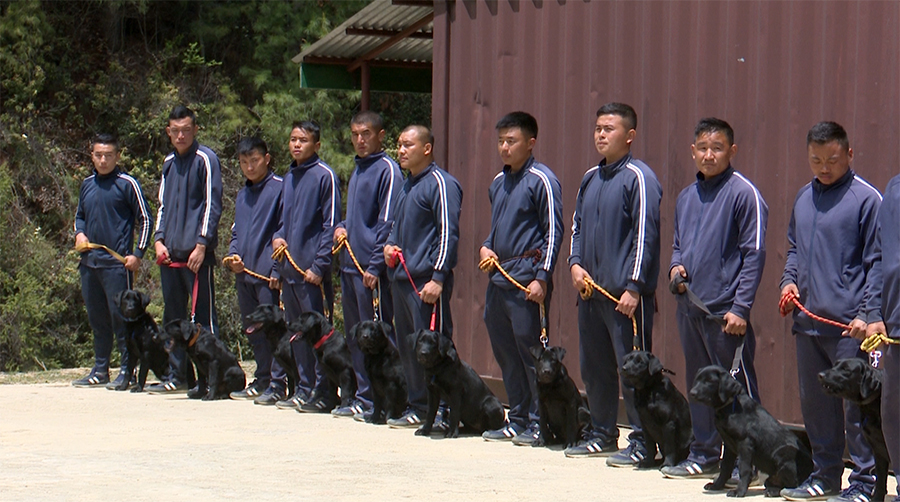 For nearly four decades, the Royal Bhutan Police Canine Unit has been on the front lines of tracking down criminals. From drug busts to highway checks, the highly trained dogs are always ready to serve and protect. Let's find out more about these crime-fighting canines and their role in keeping the country safe in this story.
With a total of 45 highly trained dogs, the Canine Unit is instrumental in detecting drugs, weapons, and explosives.
The unit comprises 43 Labrador Retrievers and two German Shepherds. While 28 dogs have completed training, 16 are currently undergoing training.
"For now, we have a Canine Unit, which we are utilising to the best of our ability in our country, especially for drug cases, explosives, and tracking criminals. We are making the best use of it, and we are reaping the fruits of its use too. Dogs are helping a lot in solving several such cases regarding drugs, criminals, and explosives," said Col Passang Dorji, deputy chief of police.
The dogs are used at integrated check posts, highway checking, night patrolling, and wherever crime scenes occur.
Currently, the unit operates in Thimphu, Phuentshogling, Paro, Gelephu, Samtse, and Samdrup Jongkhar.
The RBP is planning to expand its reach to more districts by improving the service across the country.
"We are trying to make our handlers and trainers more efficient and capable. Even with our dogs, we are evaluating everything, so that we can make them the best at tracking criminals and drug cases. For now, we are having a shortage of space, and we are looking for a training ground, which we will have shortly," added Col Passang.
For now, the dogs are trained at the Chamgang Canine Training Centre. The dogs are imported from Thailand and India.
Namgay Dema & Tashi Dekar
Edited by Sonam Pem