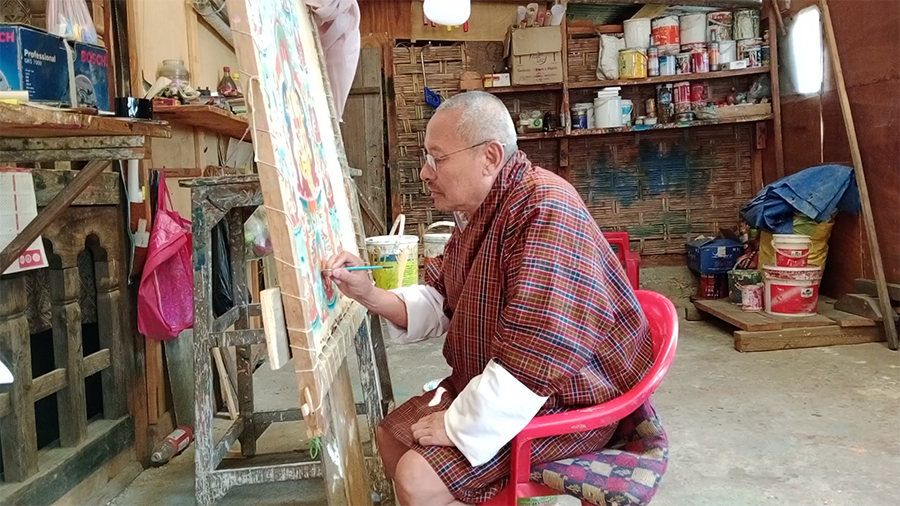 Although he has retired from his job, 61-year-old Samten Lhendrup, a popular master artisan in the east has not stopped sharing his wealth of knowledge with the young hands. He is now voluntarily nurturing and guiding the students of the College of Zorig Chusum in Trashi Yangtse, where he previously worked for 19 years.
The man from Kangpar Lamegonpa under Kangpar Gewog in Trashigang is getting ready for the day.
After getting dressed up, he does his regular prayers before heading to his workshop. He is a veteran painter, sculptor, goldsmith, mask carver, and wood carver.
He learned all these at Yongla Goenpa when he was around 11 years old. He joined as a painting, goldsmith, carving, and sculpting instructor when the Institute of Zorig Chusm was first started at Trashi Yangtse. For a couple of years, he single-handedly taught all the courses at the institute.
Today, he lives nearby the College of Zorig Chusum. In the midst of his busy day, students of the college visit him. They show their work for guidance and necessary advice. He feels that it is his responsibility to help them.
"Although many expert craftsmen are in the country, they do not live near the college. So, if someone like me who lives in the neighbourhood does not help them, who would help them? That's why I'm sharing with them the little knowledge and experience I have with them," said Samten Lhuendrup, a retired artisan.
His services have benefitted the students learning different crafts at the college.
"As he is the expert in almost all the trades, we have him as a reliable source to clarify our doubts," said Jigme Wangdi, an instructor at the College of Zorjg Chusum.
"He has benefited Zorig Chusum remarkably in general and in particular, as he lives near our college, he has benefitted our students a lot. He makes time to clarify the doubts of students from all courses," said Namgay Wangchuk, another instructor.
"Although we have experienced instructors here, he is always available for us. This has benefitted us a lot," said Jigme Tenzin, a trainee at the college of Zorig Chusum.
He painted more than 40 temples, numerous statues, and Thangkas across the country.
Although Samten has called it a day in his professional career, the man is still an artisan at heart. Helping budding students and touching lives in the process.
Ngawang Tenzin, Trashi Yangtse
Edited by Kipchu