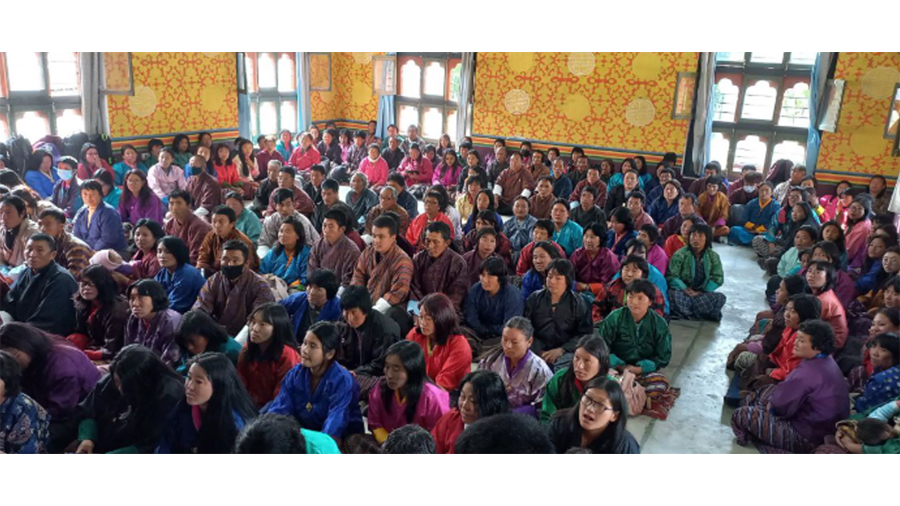 With Dhamngoi Dzomdu for NC elections almost coming to an end, many eligible voters are turning up to cast their votes. However, for those residing in the far-flung villages, attending Dhamngoi Dzomdu in the gewog centres is inconvenient and a costly affair. Some voters in Zhemgang suggested the Election Commission to look into the possibility of conducting the Dhamngoi Dzomdu in the chiwogs instead of at the gewog centres for the convenience of gathering the maximum number of voters.
Dhakpai village is one such village in Zhemgang. It is about 40 kilometres from Nangkor Gewog centre. People say they either have to hitch a ride in passing vehicles or hire pickup trucks to attend the National Council Dhamngoi Dzomdu at the Gewog centre.
They added attending Dhamngoi Dzomdu has become expensive. They say there is a need for the Election Commission to come up with alternatives to make it accessible and easier to cast votes during Dhamngoi Dzomdu.
"We were told that person above 18 years should attend the meeting. But travelling to attend the meeting is an expensive affair. We do not have our own cars and hiring vehicles is expensive. Each person is charged with more than Nu 300 and if there are more people in the household, it's a huge expenditure. So, it would be convenient for people like us if the ECB could change the regulation and see the possibility of conducting the dzomdus at the chiwogs," said Sonam Jamtsho, a resident of Dhakpai.
Similarly, people of other remote villages such as Dhigala and Langdhorbi villages of Bardo Gewog and Subrang and Gongphu villages of Trong Gewog raised the same concerns. These villages are about 50 kilometres from the Gewog centres.
"In Zhemgang, although we have access to roads, most are not in good condition. And the other reason is we do not have many cars in the villages and hiring a vehicle is difficult. Likewise, there are many other pertinent problems. I think there is a need to change the rules and regulations," said Dorji Wangchuk, a resident of Trong Gewog.
"Gewog centres are located far away and we have to hire vehicles for the meetings and the roads are not in good condition. Sometimes I feel that we are risking our lives travelling to attend such zomdus. And when we reach the destination, we are penalized by the police for violating traffic regulations. So, hereafter, I would request the ECB to find an appropriate alternative. We would be grateful," said Kinley Wangdi, a resident of Nangkor Gewog.
Meanwhile, according to the ECB, the Commission is aware of the issue. The Commission said while the Dhamngoi Dzomdus in the districts are almost coming to an end, the Commission will soon discuss the issue during the feedback session.
Pema Samdrup, Zhemgang
Edited by Sonam Pem