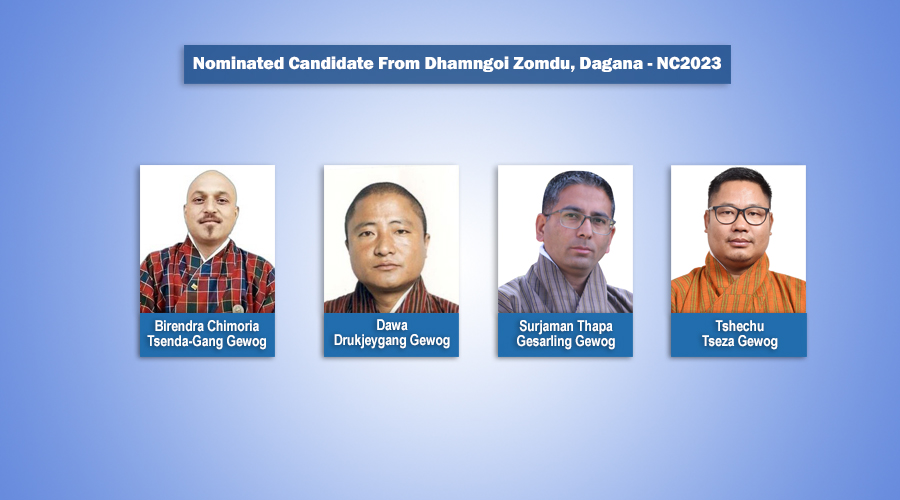 Dagana has nominated four aspiring candidates for the upcoming National Council Elections. All of them were lone nominees from their respective gewogs. The district's Dhamngoi Dzomdu concluded yesterday in Laja Gewog.
41-year-old Dawa from Pangna village will be contesting from Drukjeygang Gewog. He secured 315 Yes votes and 35 No votes.
38-year-old Surjaman Thapa, the district's incumbent National Council Member from Tashithang village will be vying for another term. He was the only aspiring candidate from Gesarling Gewog and secured 321 Yes votes and 40 No votes.
Tsenda-Gang Gewog nominated 40-year-old Birendra Chimoria from Tsenda-Gang village who secured 505 Yes votes and 51 No votes.
38-year-old Tshechu from Tongzho village will contest from Tseza Gewog. The lone aspiring candidate secured 300 Yes votes and 39 No votes.
Meanwhile, the 10 gewogs of Dorona, Gozhi, Khebisa, Karmaling, Karna, Laja, Lhamoi Dzingkha, Nichula, Tashiding, and Tsangkha and Daga town didn't have any aspiring candidates.
Dagana has over 27,000 eligible voters and more than 2,500 have turned up for the Dhamngoi Dzomdu.
Pema Tshewang, Tsirang