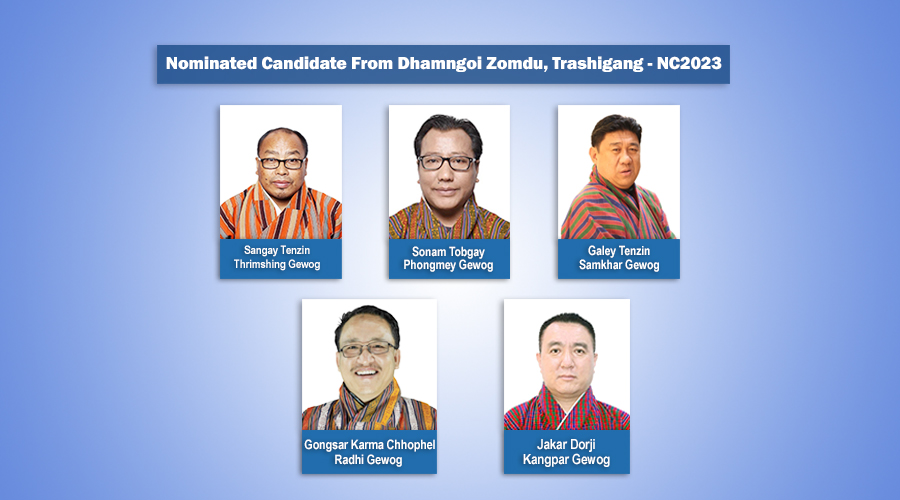 Trashigang will have five aspiring candidates in the upcoming National Council election of 2023. Seven aspiring candidates contested during Dhamngoi Zomdu which began on 27th February and ended on Friday. Trashigang has 15 Gewogs and a Throm. A total of 5,104 voters turned up for the Dhamngoi Dzomdu.
In Kangpar Gewog, 44-year-old Jakar Dorji from Zordung village got selected after securing 572 yes votes and 43 no votes.
Phongmey Gewog nominated Sonam Tobgay from Momnangkhar village. The 44-year-old secured 500 yes votes and 204 No votes. He became the gewog's lone aspiring candidate as his opponent Tenzin Wangchuk could not contest the Dhamngoi Dzomdu after failing to submit the required document.
Radhi Gewog chose 53-year-old Gongsar Karma Chhophel from Tokshimang village. He secured 466 votes against Sangay Tenzin, who received 208 votes.
Samkhar Gewog nominated Galey Tenzin from Samkhar village. The 51-year-old received 351 yes votes and 34 No votes.
And Thrimshing Gewog selected 46-year-old Sangay Tenzin from Ramchongma village. He secured 364 yes votes and 161 no votes.
Trashigang Throm and 10 gewogs of Merak, Sakteng, Bidung, Bartsham, Shongphu, Yangnyer, Udzorong, Khaling, Kanglung and Lumang did not have any aspiring candidate.
Sonam Darjay, Trashigang