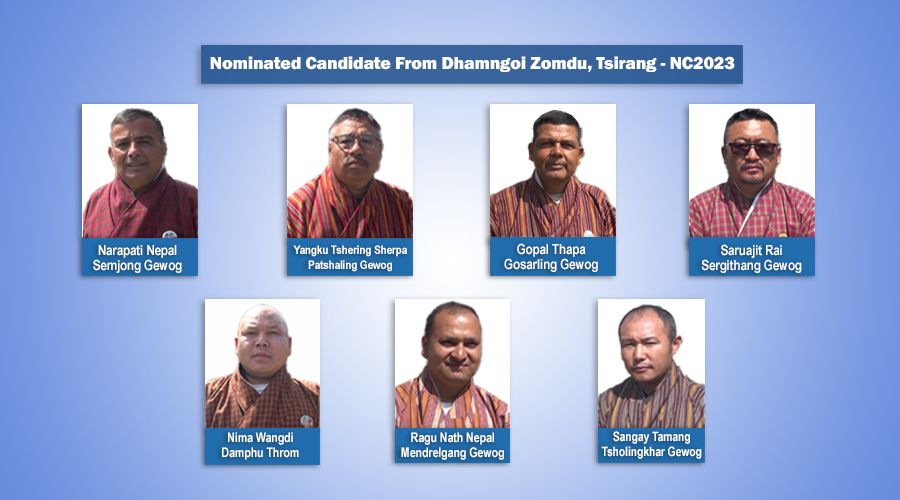 More than 26,000 eligible voters in Tsirang will vote for its seven aspiring candidates when the nation goes to poll for the 4th National Council elections on the 20th of next month. The district's Dhamngoi Dzomdu for twelve Gewogs and Damphu Throm concluded on Thursday.
42-year-old Nima Wangdi is one of the aspiring candidates to contest the upcoming National Council elections from Damphu town in Tsirang. The lone aspiring candidate secured 56 Yes votes and 2 No votes.
Similarly, Gopal Thapa from Dzamlingthang village aspires to contest the National Council elections from Gosarling Gewog. The 56-year-old secured 247 Yes votes and 57 No votes.
And Ragu Nath Nepal from Mendrelgang village is the lone aspiring candidate from Mendrelgang Gewog. The 39-year-old secured 241 Yes votes from 266 votes cast.
In Patshaling Gewog, the voters nominated Yangku Tshering Sherpa from Patshaling-Toed village as their aspiring candidate with 310 votes. His opponent Bim Bdr. Tamang managed 245 votes.
Semjong Gewog chose Narapati Nepal from Tashiling-Maed village. He was the lone aspiring candidate. The 55-year-old secured 295 Yes votes and 43 No votes.
The people of Sergithang Gewog nominated 43-year-old Saruajit Rai from Semdenjong village as their aspiring candidate. The lone aspiring candidate secured 302 Yes votes and 21 No votes.
And Tsholingkhar Gewog nominated 40-year-old Sangay Tamang from Tsholingkhar-Toed village. He secured 315 votes while his opponent, the district's lone female aspiring candidate Samten Zangmo was behind by 55 votes.
Meanwhile, the six gewogs of Barshong, Dunglagang Kilkhorthang, Pungtenchhu, Rangthangling and Tsirang-Toed did not have any aspiring candidates.
Over 3,200 voters turned out for the Dhamngoi Dzomdu in Tsirang.
Pema Tshewang, Tsirang
Edited by Sonam Pem