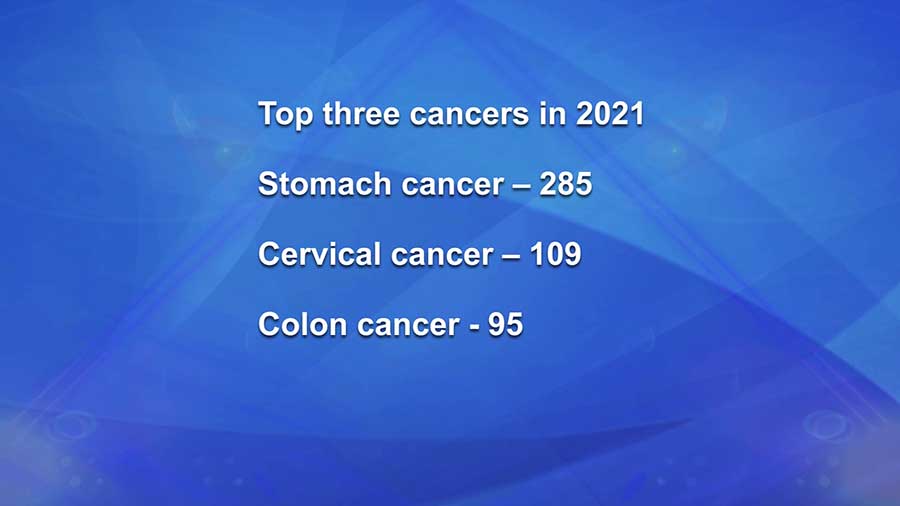 Globally, February 4 is marked as World Cancer Day to raise awareness of cancer and to encourage its prevention, detection, and treatment. Here in the country, cancer has been a growing public health problem. The top five cancers causing the highest number of deaths are the stomach, liver, oesophagus, cervix, and lungs. According to the 2022 Annual Health Bulletin, the health ministry recorded more than 1,400 cancer cases and over 150 deaths due to cancer in 2021.
Stomach or gastric cancers topped the list in 2021 with 285 cases followed by cervical and colon cancer.
While the number of stomach cancer cases has been increasing over the years, cervical and colon cancers recorded a decline.
According to the World Health Organisation, many Asian countries see high stomach cancer numbers due to high rates of infection with helicobacter pylori also known as H. pylori and the increased consumption of salted and smoked foods.
Further, about one-third of cancer-related deaths have been attributed to behavioural and dietary risks such as high body mass index, low fruit and vegetable intake, lack of physical activity, tobacco, and alcohol use among others.
Recognising the social and economic burden of cancers, Bhutan will soon have a dedicated National Control Programme. The health minister through the health ministry's social media page shared that the cancer flagship programme will aim towards lowering cancers in the country.
Meanwhile, the WHO's South-East Asia Region office called for countries in the region to intensify action to strengthen health systems to prevent and detect cancers early, provide prompt treatment referrals, and enhance access to palliative care among others.
As per the WHO, cancer is the second leading cause of death globally.
Kinley Dem
Edited by Sonam Pem