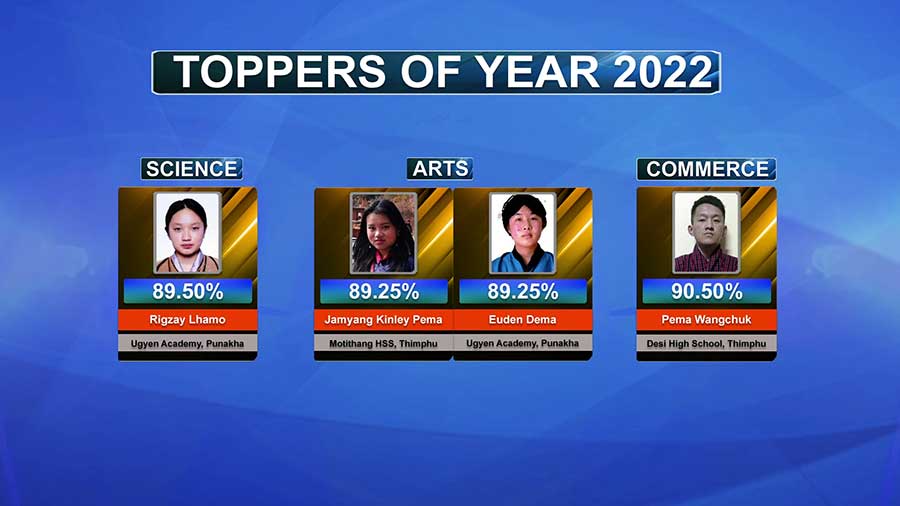 The Bhutan Council for School Examinations and Assessment declared the results of the Bhutan Higher Secondary Education Certificate for the class XII examination and class VIII for the academic year 2022, today. The overall pass percentage for class XII stands at 87.80 per cent, an increase of more than five per cent from the previous year. For class VIII, the overall pass percentage stands at 56.38 per cent.
Rigzay Lhamo from Ugyen Academy School topped the Science stream with 89.5 per cent. In the Commerce category, Pema Wangchuk from Desi High School topped with 90.5 per cent. And Jamyang Kinley Pema from Motithang Higher Secondary School topped the Arts stream with 89.25 per cent.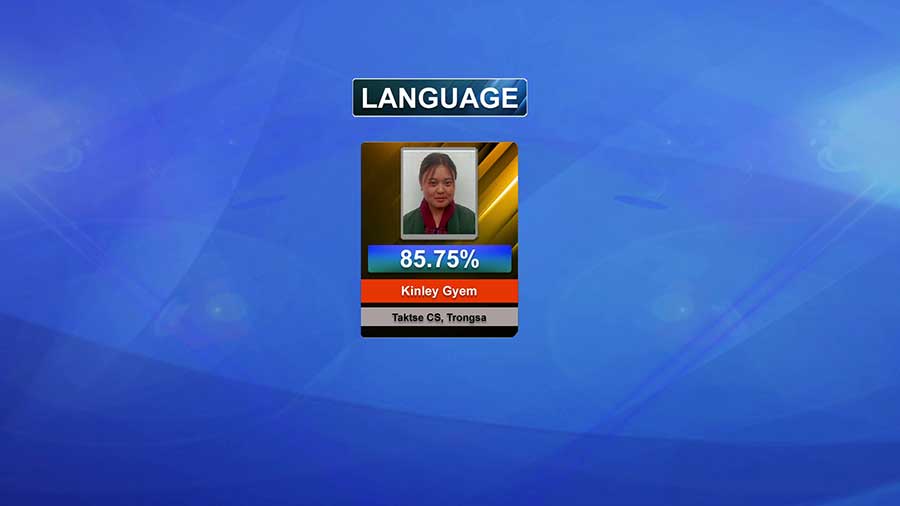 Kinley Gyem from Taktse Central School topped the Language and Culture Studies certificate examination with 85.75 per cent.
"It was actually surprising to know that I actually topped the commerce stream. I feel extremely happy that my hard work paid off. I would like to thank all my teachers and parents for all their love and support," said Pema Wangchuk, Commerce Topper, Desi High School.
"First of all, I would like to offer the glory to Kenchosum, and most importantly to Their Majesties, the Fourth Druk Gyalpo and His Majesty The King, and also Her Majesty the Gyaltsuen. I would also like to express my gratefulness to my parents and teachers and school management. I would also be thankful to my friends and relatives who have always been by my side when I always needed them," said Jamyang Kinley Pema, Arts Topper, Motithang HSS.
"The result has been a very pleasant surprise. This would never have been possible without the immense support from my teachers, family and friends. Thank you so much for pushing me through the hard times. I would like to extend my heartiest facilitations to all the national toppers and everyone who got through this year," said Pema Deki Yangden, Second Topper, Science Stream, Jakar HSS.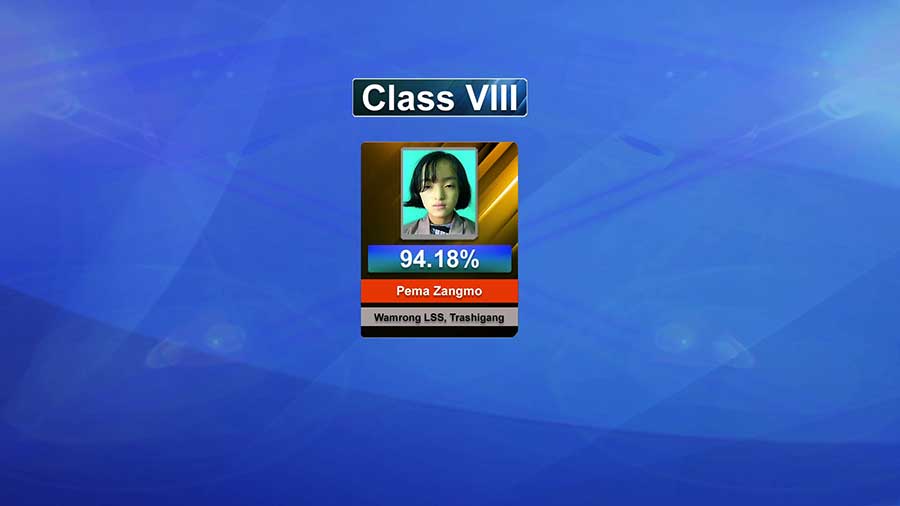 Likewise, Pema Zangmo from Wamrong Lower Secondary School topped the Class VIII board exams with 94.18 per cent. The education ministry reinstated the class VIII board exam last year after almost sixteen years. According to the ministry, the decision was in line with the education reform initiative, approved by the Education Reform Steering Committee.
Meanwhile, over 85 per cent of the Science students have passed the exam, followed by 87.63 per cent in the Commerce stream and 88.72 per cent in the Arts stream. Similarly, 94.2 per cent have passed the Language and Culture Studies Certificate and 56.38 per cent passed the class VIII board exam.
More than 13,300 class XII students appeared for the examination from 84 Higher Secondary Schools. And over 11,800 class VIII students from 176 Lower Secondary Schools appeared for the board examination last year.
Karma Samten Wangda
Edited by Sonam Pem