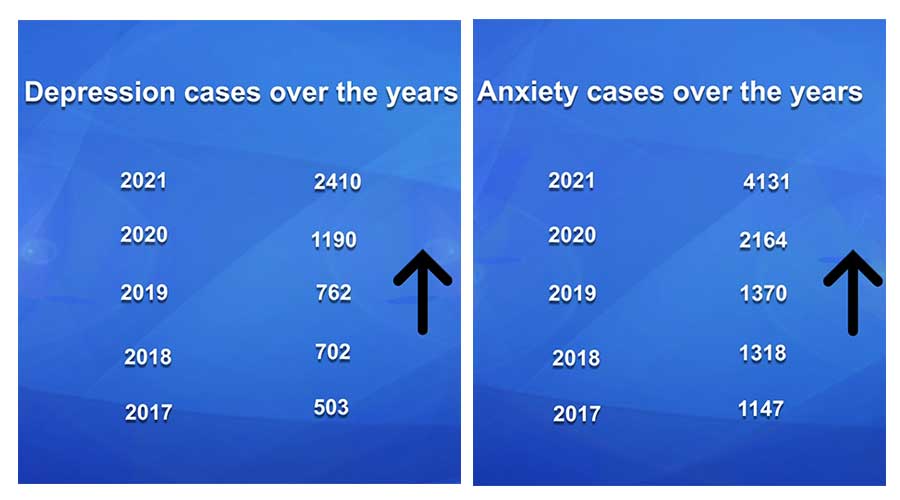 Over the past five years, the country has seen a drastic increase in the number of people dealing with depression and anxiety. And according to the Annual Health Bulletin 2022, the numbers doubled in the past two years due to the COVID-19 pandemic and its restrictions.
From lockdowns to quarantine and isolation, the COVID-19 pandemic took a toll on the lives of people. And as per health experts, these factors significantly affected the mental well-being of people.
According to the National Referral Hospital's annual report 2021, the hospital recorded more than 340 cases of depression during the second lockdown in 2020. As per the record, the majority of them were new cases.
To provide support for those affected by the COVID-19 pandemic, a National Mental Health Response Team was established in 2020. The team also saw a drastic increase in callers seeking help related to mental health issues.
And according to the annual health bulletin 2022, the number of depression cases increased from over 500 in 2017 to more than 2,400 in 2021.
Similarly, in 2017, more than 1,000 people suffered from anxiety and in 2021, the number crossed 4,000.
"Among the mental health disorders that we saw during the pandemic, the most common was actually anxiety related. So, it was a panic disorder or generalised anxiety, showing some symptoms of fear and anxiousness. The second obviously was depression. Many people went into depression. We also had people withdrawing from drugs and alcohol because people were not able to access those, and they had a difficult time," said Dr Damber K. Nirola, a Psychiatrist at the JDWNRH.
Dr Nirola added that a person develops mental disorder due to three factors; biological, environmental and psychological. He added that most of the mental health disorders reported during the pandemic time were because of environmental factors such as the implementation of restrictions and lockdowns.
According to the World Health Organisation, a huge number of people have reported psychological distress and symptoms of depression, anxiety or post-traumatic stress due to the pandemic. And this has caused an increase in cases like anxiety and depression worsening mental health conditions.
However, after the relaxation of COVID-19 restrictions, Dr Nirola said the number of people seeking help from the psychiatry department has decreased although the hospital has yet to compile the data.
"When somebody has a strong biological predisposition to have a mental disorder, they may not break down until a situation occurs. So, the pandemic could have triggered that and they can continue to suffer from mental illness," added Dr Damber.
According to reports, the impact of covid could be felt for years and some psychiatrists even say that it will take at least a generation to recover from the mental trauma people experienced during the pandemic.
Karma Samten Wangda
Edited by Tshering Zam