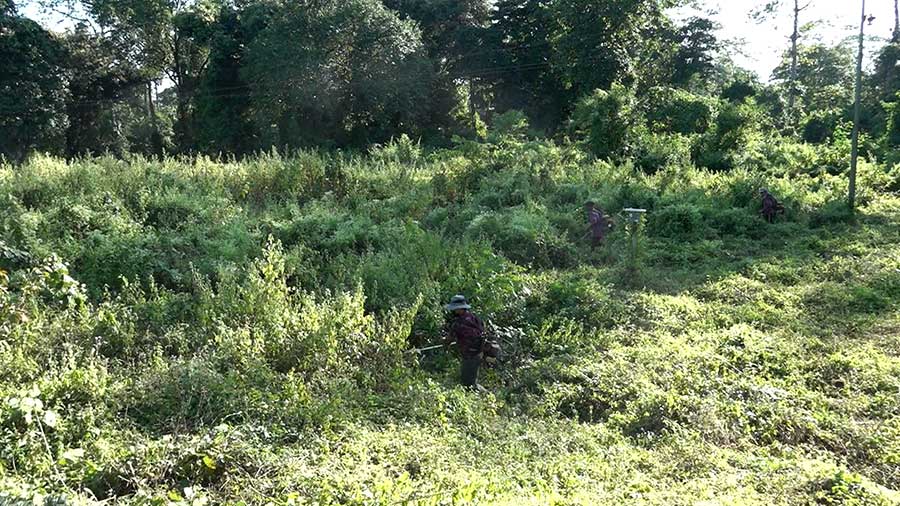 Like the rest of the world, Bhutanese people have moved on to live normal lives leaving behind COVID-19. And they are moving forward taking along the lessons and opportunities the virus presented. In Gelephu, Bhutanese people who have taken over bush clearing works from Indian workers along Gelephu-Sarpang highway during the pandemic continue the work even after the borders reopened. The work has become a reliable source of income for them.
Three residents of Samtenling Gewog in Sarpang took up the bush-clearing works along the highway when the country closed its borders due to the pandemic more than two years ago.
They clear the bushes on both sides of the eight-kilometre highway between Ipole stream near the Gelephu Domestic Airport and Bhutan Centennial Distillery at Samtenling Gewog. They say the use of machines has made it easier for them to continue their work.
"We can earn more and the work is not as exhausting with the machine," said Dhan Badhur Rai, a resident.
"The machine can clear the bushes in a few hours which would usually take a day when we clear it manually," said Lakshuman Dulal, another resident.
More than 100 Indian day workers used to clear the bushes before the pandemic hit the country.
The Samtenling Gewog awarded the contract work to the three of them for Nu 2.5 M last week. They are required to complete it by next week. The bushes provide shelter for elephants threatening the lives of commuters along the highway.
Karma Wangdi, Sarpang
Edited by Phub Gyem