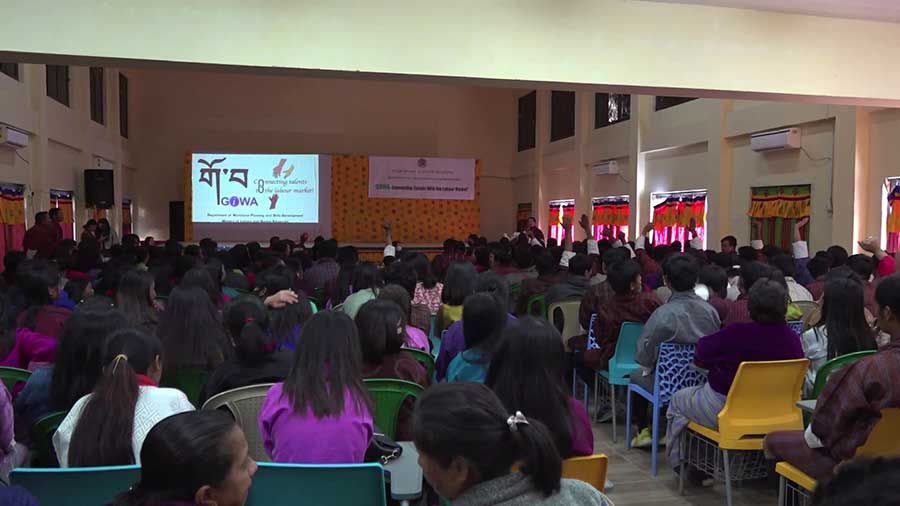 Ten private agencies recruited about 30 job seekers on the spot at the GOWA programme in Punakha. Through the GOWA programme, job seekers can find suitable jobs which match their skills. The labour ministry started organizing the programme from last year to address the mismatch of skills and jobs, to create awareness about the labour market and job security.
More than 200 job seekers attended the day-long programme in Punakha on Wednesday. They applied for various jobs in private companies. But about 30 of them were selected on the spot for various vacancies while about 120 of them will sit for job interviews in the coming days.
"I cannot afford to travel far away in search of a job. It is convenient for us as the government brought this event to Khuruthang. I have applied for the supervisor post in Green Bhutan Corporation Limited and I am hoping that I will get the post," said Chhimi Dorji, a job seeker.
"I did plantation work earlier when I was studying abroad. So, there are some opportunities related to this work and I applied for it. Likewise, I have some experience working as a supervisor in Punatsangchhu project and in Thimphu. So, I applied for work supervisor. I am expecting to get one of the jobs," said Kinley Tshering, another job seeker.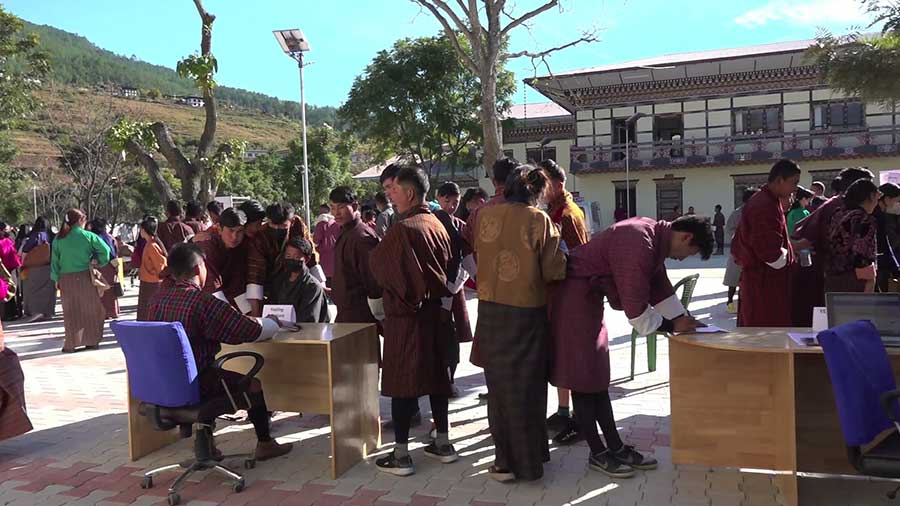 The programme has also helped companies and agencies in recruiting skilled employees.
"We have registered almost thirty applicants. Actually, we need about twelve employees in Punakha district. We are expecting to employ them through their knowledge and with transparency," said Tshewang Namgyel, the Chief Executive Officer of Bhutan Herbs Exporter.
"We have resumed our hotel business. And we need staff. Accordingly, we have advertised the vacancies on social media but it is difficult to get the required number. So, all the talented and skilled people have gathered here so, this program is helpful," said Budha Raj Subbha, the Manager of Hotel Pema Karpo in Wangdue Phodrang.
"The Gups and the Local government officials have full support. But what they require is their competency and experience certificates. If they have all these, we have no doubt in giving them work. Likewise, we can also address the unemployment issue," said Tshering Penjor, Toebisa Gup.
This time, it is the 7th GOWA programme and a similar event was held in Thimphu where more than 60 job seekers were recruited.
"Through this GOWA programme, we target our young talents, job seekers, employers and even parents to become active drivers of the labour market. We wanted it more convenient for job seekers. We don't want them to flock all to the capital for seeking opportunities and it's such an overwhelming crowd that we received here in Punakha," said Tshering Choki, Senior Programme Officer of the Labour Ministry.
During the programme, the job seekers were oriented on various programmes offered by the Labour Ministry to facilitate the labour market.
The job seekers were also familiarized with job security and employment conditions guaranteed to them by the Labour and Employment Act 2007 and its Regulations.
According to the Labour Ministry, currently, there are more than 20,000 registered job seekers.
Changa Dorji, Punakha
Edited by Tsheirng Zam