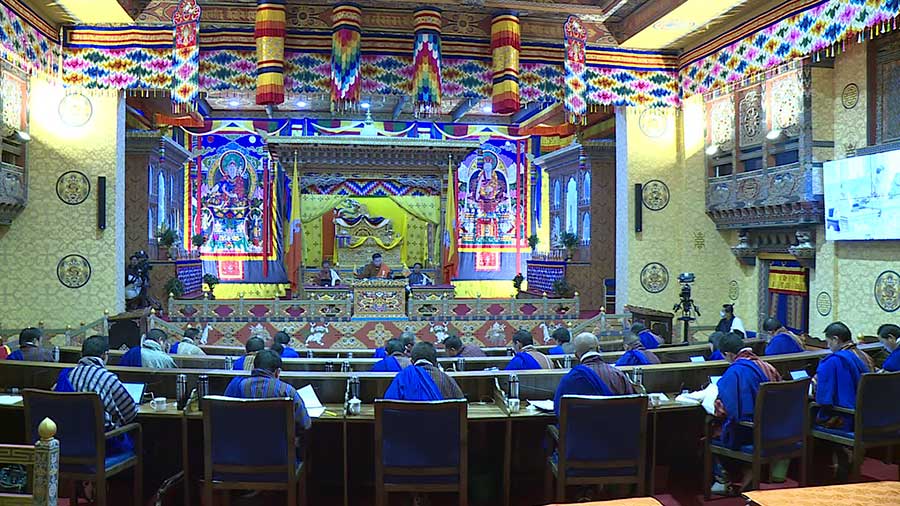 Continuing the deliberation of the Property Tax Bill of Bhutan 2022, the National Council today forwarded numerous sections of the bill to the Economic Affairs Committee for internal discussions. The Bill aims to resolve several ambiguities and biases of the Revised Taxation Policy of 1992, which has not been revised for three decades. 
Among many issues concerning the Bill, the House today saw a lengthy deliberation on the uniform taxes both in rural and urban places, concessions on wetland or Chuzhing and traditional houses in urban centres, vacant land surcharge taxes, and many more.
Some members said with the increased property tax rate of 0.1% on the taxable land value, a few landowners will have to bear a hefty tax burden.
"For those landowners whose land or buildings fall under thromde areas, they will have to pay a heavy tax," said Ugyen Namgay, the council member of HAA.
Talking of concessions, a few members suggested providing 90 % land tax concessions on dryland as well. The Bill for now only proposes to give land tax concessions on wetland with the motive to promote and ensure food and nutrient security.
"It will be better if we can include the 90 % land tax concession for dryland just like the wetland. Many people rely on dryland in the country," said Tempa Dorji, the council member of Lhuentse.
Likewise, members also shared the need to do away with the property tax on traditional houses.
According to Gasa's council member Dorji Khandu, the government should either buy the traditional infrastructures or provide land or property in return if the owners don't get tax exemptions.
"Simply collecting taxes from them and not allowing them to do any renovations or works on their buildings in the namesake of conserving culture and tradition is not fair for the land owners," he said.
The House also saw extensive deliberations on the revision of the Property Assessment and Valuation Agency (PAVA), payment of taxes on an instalment basis, appeal procedures and the levy of penalties, vacant land surcharge tax on specified areas, and many more. The committee at the end was asked to revisit the disputed sections and discuss them along with the concerned members. The Bill will be presented for adoption next week.
Passang Dorji
Edited by Sonam