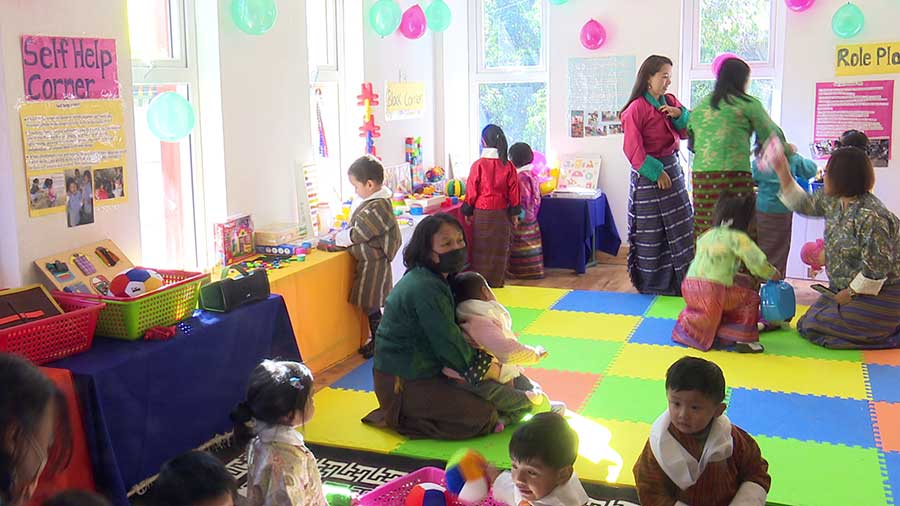 Early Childhood care and Development is considered an important programme to harness the potential of children from an early age. However, according to the Bhutan ECCD Evaluation Report 2020, the ECCDs in Bhutan has not been able to facilitate the enrollment of children with disabilities. So, to address this, the education ministry and UNICEF opened a model-inclusive ECCD centre in Thimphu today coinciding with the birthday of His Majesty the Fourth Druk Gyalpo and the Children's Day.
The model-inclusive ECCD centre is located at Changangkha Middle Secondary School which is an inclusive school. The centre will ensure that children with disabilities can access early learning interventions and facilitate a smooth transition to formal schooling.
"Till now, there have been a lot of facilities for children without disabilities, whether it is in private or government places. However, there are no inclusive educational facilities for our children with disabilities. So, with the launch of today's inclusive ECCD here at Changangkha, both my children and I are very happy and enthusiastic about it," said Kinzang Wangdi, a parent.
"We teach and take care of children with disabilities in a similar way we do of other children. We are not supposed to segregate them and plan differently. It is just that we should render more support and guidance towards them," said Dhan Maya Rai, ECCD Facilitator.
According to the Population and Housing Census of Bhutan 2017, there are nearly 400 children aged three to five years across the country with one or more disabilities. Of this, more than 100 children with disabilities are in Thimphu.
"Today, there are many children with disabilities that are left out. This is because there are no centres that can take up children with disabilities and their needs are very different. This inclusive ECCD is so important because it prepares them to get into formal school. Children can also get intervention from an early age," said Nyendo, the Principal of Changangkha Middle Secondary School.
According to UNICEF, the centre will also serve as a resource centre for early intervention to replicate similar services nationwide.
"Well, we know from decades of research that early childhood care and development is one of the best investments a country can make to build its national capacity. We don't have enough inclusive facilities and we also need ECCD facilitators to learn how to manage children who have disabilities. In that way, we can get every single child, no matter their level of ability and their potential, they can get access to the best investment we can give early in life," said UNICEF Bhutan Representative, Dr Will Parks.
Two such inclusive ECCDs are currently under construction in Gelephu and Trashigang to cover all three regions of eastern, western, and central Bhutan.
The centres are being built at a cost of USD 180,000.
Kesang Wangmo/Kinley Dem
Edited by Sonam Pem