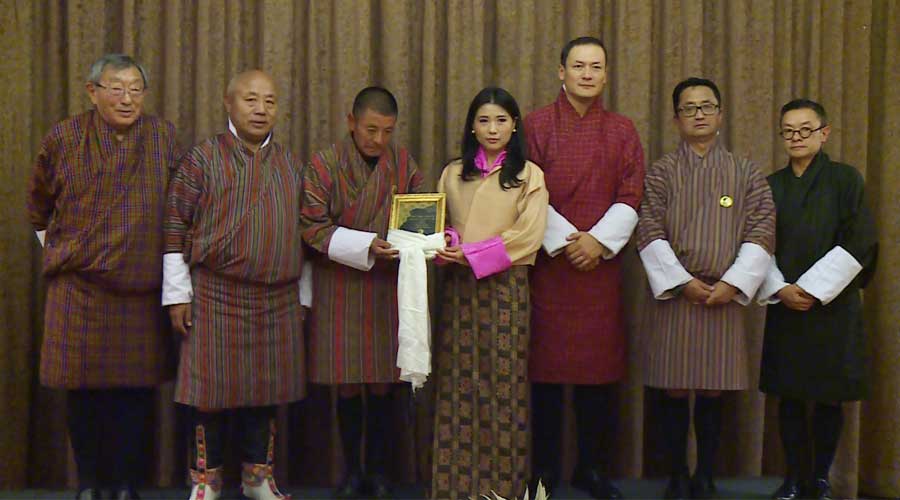 He has gone beyond his call of duty and set examples for many. From rediscovering Bhutan's national butterfly to publishing books on butterflies and moths, Karma Wangdi has done it all in an effort to conserve the butterflies. In recognition of his contribution, he was awarded the Jigme Singye Wangchuck Outstanding Environmental Stewardship Award yesterday which comes only once in two years.
Her Royal Highness Princess Chimi Yangzom Wangchuck, who is also the Royal Patron of Bhutan Ecological Society, conferred Karma Wangdi with the Jigme Singye Wangchuck Outstanding Environmental Stewardship Award.
Karma Wangdi is a forester and an assistant researcher at the Ugyen Wangchuck Institute for Conservation and Environment Research. In 2009, Karma re-discovered Bhutan's national butterfly, Ludlow Bhutan's Glory. He rediscovered it in Trashi Yangtse, 76 years after it was first discovered in 1933 by a British botanist. His other achievements include the discovery of 60 moth species of which 34 are new to Bhutan.
"I never thought that I will be conferred with this award. I am very thankful for the opportunity although I don't have much knowledge and qualification. I am grateful that I was conferred with the Jigme Singye Wangchuck Outstanding Environment Stewardship Award and I am speechless," said Karma Wangdi.
Studied till class VIII, Karma has dedicated 25 years of his life as a forester.
The award honours individuals, groups and institutions' contributions towards ensuring the security and sustainability of Bhutan's pristine environment.
The Award is a homage to His Majesty the Fourth Druk Gyalpo's selfless service and farsighted leadership.
Nidup Dorji
Edited by Tshering Zam