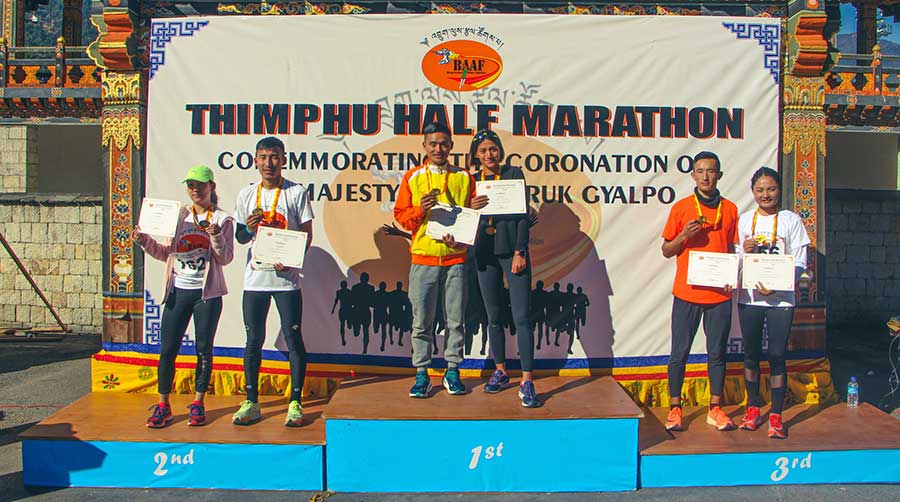 To commemorate the 14th Coronation Anniversary of His Majesty The King, more than 80 runners took part in the 15th edition of the Thimphu Half Marathon, held this morning. 27-year-old Sangay who came in third in the recent snowman race secured the first position in the men's category. And Goma Pradhan bagged the first position in the women's category.
The marathon flagged off from Changlimithang at around 6:30 in the morning. The runners had to reach a checkpoint at Namselling and return to Changlimithang to cross the finish line.
Sangay completed today's 21-kilometre marathon in 1 hour and 15 minutes.
Following him was 21-year-old Kinley Tshering completing it a minute later. And Dechen Tshering from the Royal Body Guard secured the third position completing the race in 1 hour and 18 minutes.
In the women's category, Goma Pradhan, a serial marathoner won the race in 1 hour and 29 minutes. 25-year-old Chimi Dema came in second at 1 hour 49 minutes, followed by Tshering Dema, who crossed the finish line seven minutes later.
The winners were awarded cash prizes, certificates and medals. The Bhutan Amateur Athletic Federation organised the event. The federation plans to organise a similar race, the "Druk Wangyel Marathon" next month.
Karma Samten Wangda
Edited by Phub Gyem