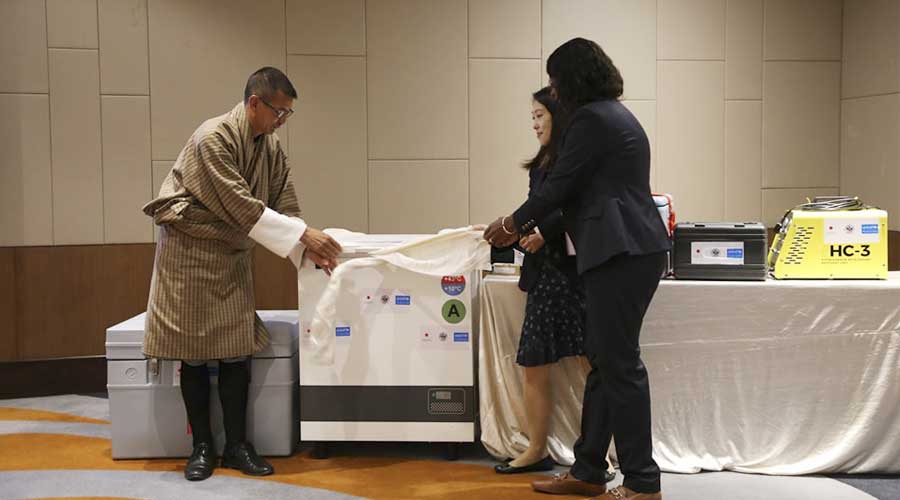 Bhutan has been able to enhance the storage capacity for life-saving vaccines by more than threefold. The health ministry now has more than 560,000 litres of storage, up from less than 150,000 litres in 2019. And this was made possible with grant support from the government of Japan.
The country received nearly Nu 120 M from the Japanese government to procure and install cold chain storage equipment during the pandemic. It was officially handed over to the Health Ministry today.
With the support and strengthening of the cold chain system during the pandemic, Bhutan has been able to store COVID-19 vaccines at various temperatures across all healthcare facilities in the country. Aside from this, the ministry said the cold chain is also the backbone of the immunization programmes in the country.
"Most importantly, we would be able to give all important vaccines to our children. This is because we have enough storage. We can now keep these vaccines in stock in all the health centres and use them as and when needed," said Tashi Dawa, the Deputy Chief Programme Officer of the Department of Public Health.
The support grant also helped in building the capacity of the technicians in the areas of maintenance.
"This is very important. More than the availability of the vaccines, maintaining the potency of the vaccines is important. If the right potency of the vaccine is not maintained, a vaccine won't serve its purpose. So, this will be very useful," he added.
According to the Health Ministry, different cold chain equipment includes Walk-in-coolers, Walk-in-Freezers, cold boxes, and vaccine carriers. The equipment is already installed in health facilities and used to further immunization efforts.
Kinley Dem
Edited by Tshering Zam