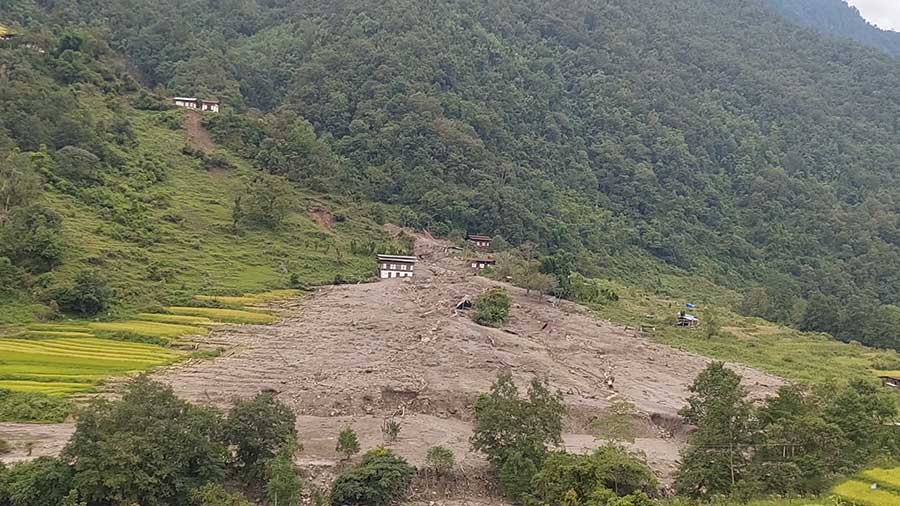 A flash flood in Jasabi of Lhuentse has killed five elderly people. The last two bodies were recovered today. The flash flood triggered by heavy rain also injured a couple and damaged properties, crops and livestock. The small village in Kurtoed Gewog was hit by the flood in the early hour of yesterday. 
The trail of disaster left by the flash flood has driven the handful of residents to fear for their lives too.
The flood that killed five and injure two also swept away two traditional houses and partially damaged four other houses in Jasabi. According to some residents, this is the second such incident that has hit their village. The first one happened some three decades ago but there was no casualty like yesterday.
Rinchen Zomba from Jasabi was at home when the flood struck her village. With nowhere to run, she says she waited for the worst.
"The flood hit my home from different directions. I felt the vibration as if an earthquake hit my home. I stayed at home only but when I got up in the morning my neighbours were washed away by the flood. There are only a handful of people in the village and I was worried that all died in the mishap," she said in between tears.
And Tshering Dhendup also had a narrow escape.
"I went to get cattle and I was not at home during the time of the flood. But my wife and child were at home. They could not run away since the debris has blocked the main door. The flash flood damaged my altar room," he said.
"Our ancestral land has to be handed over to our future generations. And we are hopeful that one of my children will take care of our ancestral land. When such incidents happen often, our child would be reluctant to stay back in the village. We can't stay here in our village now," added Tashi Dhendup, also a resident.
Meanwhile, the flashflood also damaged about seven acres of paddy fields, other crops and stocked grains that belong to seven families. It also damaged the drinking water source, irrigation water pump and irrigation channel of the entire village. Eleven cattle of four families were also swept away by the flood. The gewog agriculture official will assess the crop damages from tomorrow. The dzongkhag disaster team will soon provide relief kits to the affected household.
Teary-eyed and worried, the residents say they are willing to relocate to some safer places if given a chance.
Sonam Tshering, Lhuentse
Edited by Sonam