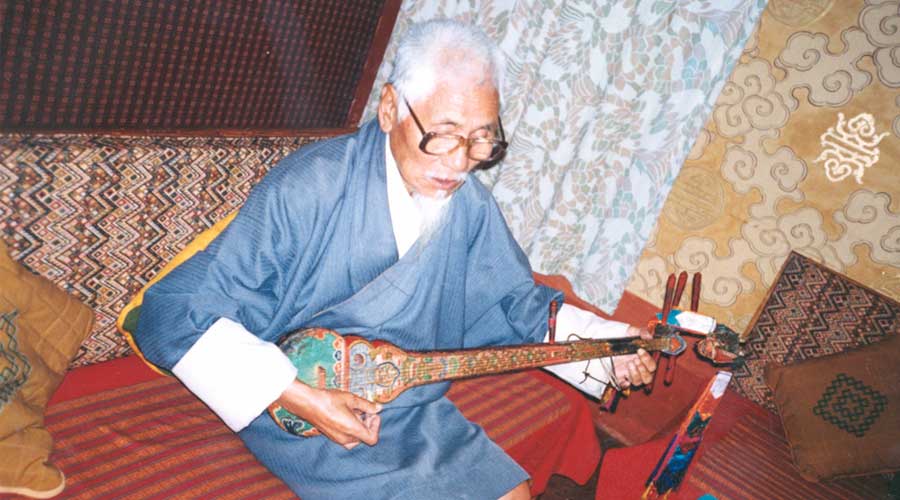 The country has lost a legendary singer and musician. Ap Dopay passed away on Wednesday night at his residence in Thimphu. He was 89. Considered as the master and treasurer of traditional songs, Ap Dopay from Talo in Punakha was a recipient of Druk Thuksey from His Majesty the Fourth Druk Gyalpo.
He was a monk, a painter, a historian, a singer and an instrumentalist. Started his life as a monk in Punakha, late Ap Dopay later changed his robe to dedicate his life to what he loves the most- music. However, he did not discard his belief. He was a devout Buddhist until he breathe his last.
He is credited with promoting the country's indigenous songs and music. His passion and dedication were recognised in 1999. During the Silver Jubilee celebrations of His Majesty the Fourth Druk Gyalpo's reign, he was awarded the Druk Thuksey for preserving and promoting the traditional songs and music in the country.
Jigme Drukpa, a renowned singer and a musician himself, is among the many students of Ap Dopay. According to him, the death of such an icon is a great loss to the nation.
"Spanning over five decades, Ap Dopay was a household name. His music and his songs, especially through the performance of Zhungdra, which is only seen in Bhutanrepresent his effort in upholding the core values of Bhutanese songs and traditions," said Jigme Drukpa.
The late music icon was the voice that entertained thousands of Bhutanese in the olden days through BBS radio. And it was through the radio that Jigme Drukpa heard him for the first time when he was about 7-8 years. Wanted to learn the Drangyen from Ap Dopay, Jigme Drukpa left his school and travelled to Thimphu from Wamrong in search of him.
"After over five weeks I found him. And since then I have followed in his footsteps. It has been over 38 years now. I have used my time learning most of his songs. Reflecting back on our lives, especially his life, I think he made a tremendous contribution to Bhutanese culture and music in particular," he added.
As much as the loss is immense, there is but a consolation that he will continue to live through his works.
Sonam/Changa Dorji