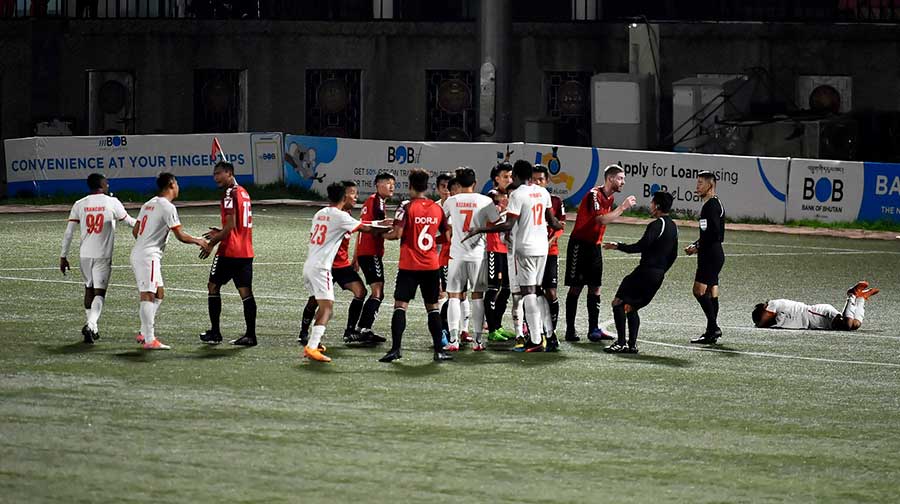 The quality of the BOB Bhutan Premier League is improving every year. But the ugly side of the game is also finding its way into the country. It was in Paro earlier this month, and a similar disciplinary issue was spotted last night at the Changlimithang stadium. In both incidences, the match referees found themselves at the receiving end. Observers online say football hooliganism should not be tolerated at any cost if the country wants to progress in footballing. 
It was a match for the top spot in the ongoing BOB Bhutan Premier League. Thimphu City FC were playing their seventh match of the season without a single loss. And it was the sixth game for Druk Lhayul FC, who have lost only once. As expected tempers were high, and running to the man in the middle was a routine.
The game was a grim reminder of how ugly it can turn. The action taken by the Bhutan Football Federation recently against two players and the manager of Paro Rinpung FC was all but forgotten. The last night's match was proof.
With two goals down, Druk Lhayul FC lost one of their foreign players to a red card in the 37th minute for protesting the referee's decision. And the discipline headed downhill thereafter. Players started challenging every time the referee blew the whistle which sent the crowd hysteric.
In the second half, both teams lost a player each to disciplinary actions. The disorderly behaviours of the players also drew the ire of the crowd. So much so that spectators started raining objects like bottles and plastic cups in the stadium.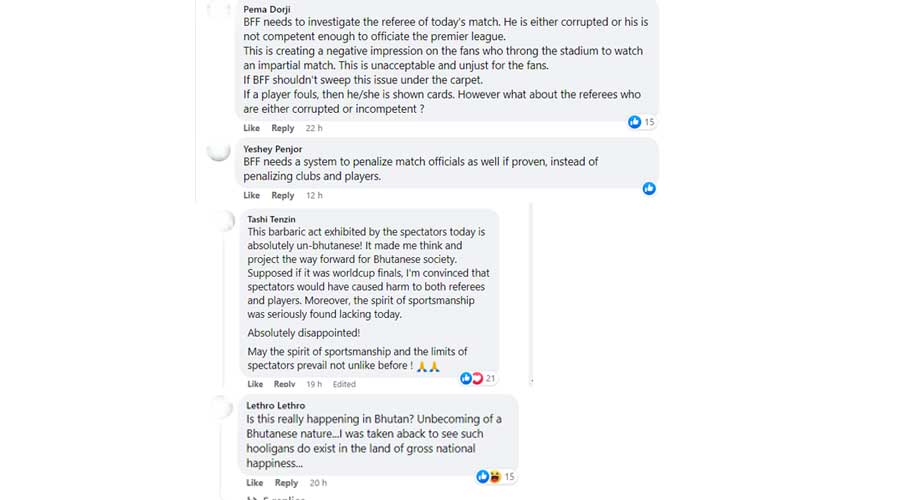 Observers online said such behaviours from the players and spectators show disrespect to the beautiful game. Some even blamed the referees for not being able to handle the match. They accused the referees of biased decisions that sparked protests from the players.
However, according to a statement from the Bhutan Football Federation, match officials are observed and accessed during all matches. And concerning the match yesterday, the federation said the decisions taken by the referee were all fair.
The federation also said last night's incident was unexpected and that tougher security will be imposed hereon. The federation is also reviewing the situation.
It was at Changlimithang, that the country started on the path of peace after the last civil war was fought here, and hopefully, this is also the last time that the country witnessed such hooliganism at this sacred ground.
Kinley Dem
Edited by Sonam