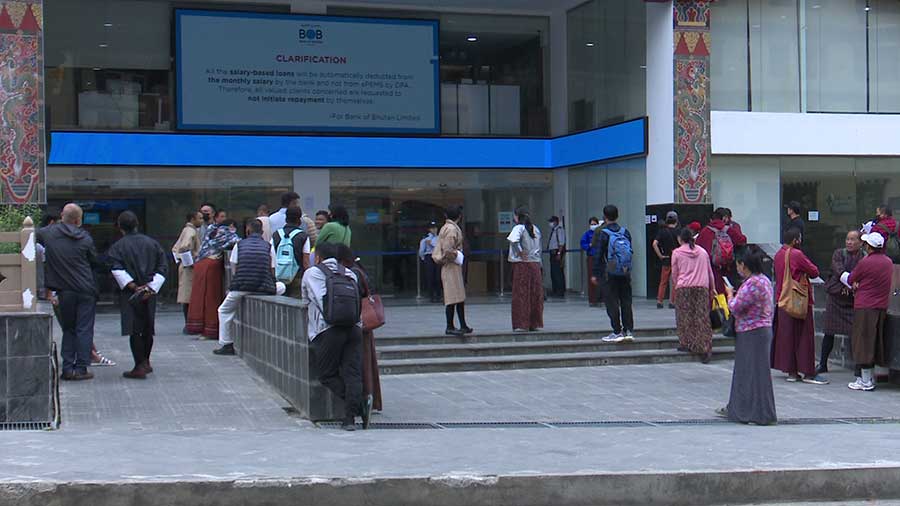 People across the country were unable to access Bank of Bhutan's both offline and online services when the bank went down for nearly three days. Impeding access to online and mobile banking services, the service disruption of the country's oldest bank left many frustrated.
For the past two days, the service outage disrupted withdrawals from ATMs to online banking services including the bank's popular and most used application MBoB. Angry and frustrated, many crowded the bank's head office in the capital.
"They are not even providing us with the information. There is a customer representative manager and CEO with the bank but not even one person is here to clarify to their clients. They just have security in front of the doors who has no information about the system. For someone like me, I have a flight tomorrow and I came here to withdraw the money only to get stuck here like this," said Tila Chand, a client of the bank.
"The last date of submission for college fees was yesterday and I transferred it to the bank and had all the forms filled up on Monday. Now my deadline is over. Who do we make the complaints to if it gets cancelled? We wanted to send it from another bank but there was no withdrawal. So, who are we supposed to complain to? We even called RMA. They said they can't do anything. They just say the system is down," said Jigme Wangdi, another client.
"Most of our public have their accounts in BoB. Wherever we go, there is a problem with MBoB. And because many services have gone digital, most people do not carry cash anymore. Everyone uses MBoB. It's time the bank has a strong backup system. Or they could have given us a cautionary letter before the system went down," said Tshering Lhaki, a client.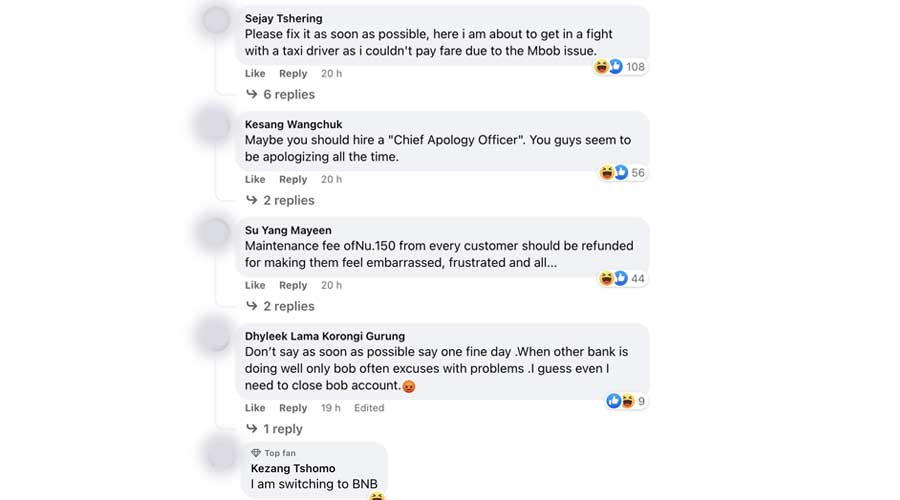 Many took to social media to complain about the system disruption. While some wrote that it is high time people switch to other reliable banks, others said there is no use in banks collecting maintenance charge every year if the service is down most of the time.
But the service was restored in the afternoon today. The bank shared the news through its official Facebook page apologising for the inconvenience.
"We had an issue with one of our servers. It was broken, it got burnt out because of power fluctuation a week back. And our vendor, the local support vendor, had the spare in place but that spare didn't work. So, then we had to get it from Singapore. So, by then as a bank, we need to close the accounting transaction daily and usually, we do it by midnight. It takes around two hours. But now we don't have the additional resources or power to process this transaction. So, because of this, it took a huge time," said Tsewang Dorji, the Director of ICT and Innovations of the Bank of Bhutan.
The bank has more than 400,000 clients as of today.
BBS reached out to the Royal Monetary Authority for comments. But they asked us to write to them officially.
Samten Dolkar
Edited by Sonam Pem