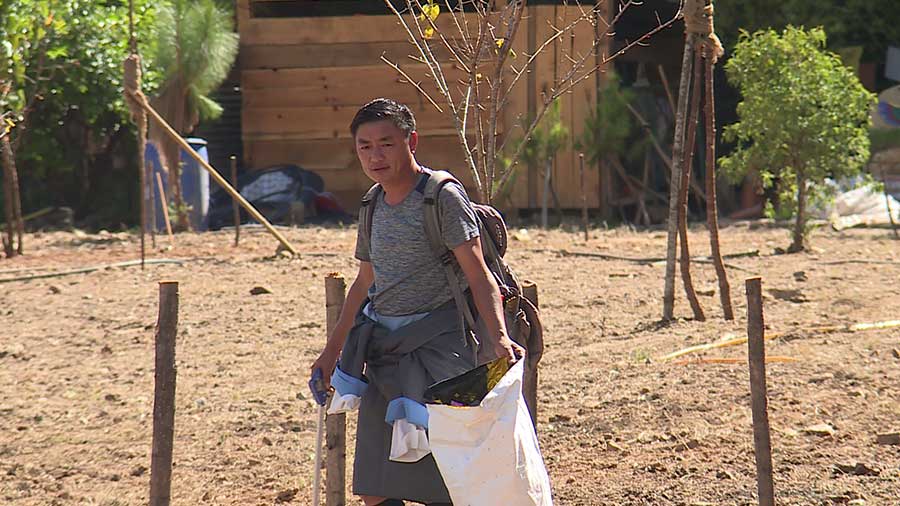 As the country continues to tackle the mounting waste problem, the government has repeatedly sought support from all stakeholders including the public. Taking responsibility and handling one's trash is probably one of the best solutions. One man has come to the forefront to advocate for waste management and do his bit in keeping the country clean. After three months, 45-year-old Gembo is back in the capital having conducted a nationwide cleaning campaign.
Gembo is from Trongsa and is a tour guide by profession. He says he is a passionate zero-waste campaigner. The father of four says he drew inspiration from Her Majesty the Gyaltsuen and made up his mind to keep every place he visits clean.
"I started cleaning and collecting wastes more and more because it is increasing by the day in the country," says Gembo.
"Initially, I did not do this in public because people would sometimes give negative comments. But one day I was in a hotel and I saw our Gyaltsuen and Dorji Lopen initiating a cleaning campaign on TV. If Her Majesty is passionate about keeping our environment clean, what are we? It was after then that I decided to make my work public."
He started his nationwide one-man campaign in June from Dungkhar, Lhuentse. However, right after a few days in his quest, Gembo struggled with a host of problems.
"I encountered several problems such as not having a place to spend the night and I couldn't get a ride later after I was done for the day. I had to walk in leech-infested areas. Some people also said that I was delusional and crazy," said Gembo.
Gembo believes that his genuine interest in managing waste stems from his profession which is to reveal the nation's beauty to the outside world. He says he also wants to change the typical Bhutanese way of thinking that office goers in Gho and Kira should not deal with waste.
"I felt funny because I know that many people are unaware of what I was doing. I did the cleaning work in my Gho. It is because people think that we should not pick up waste while in Gho. I wanted to change this mindset."
He added that he covered at least 18 kilometres every day picking up wastes of all sorts.
According to National Statistics Bureau's 2020 National Solid Waste Inventory survey, the country generates more than 172 metric tons of solid waste in a day.
And if we are to contribute to bringing down the country's waste problem, maybe we need to be more like Gembo and start by having the right attitude.
Tshering Dendup
Edited by Yeshi Gyaltshen