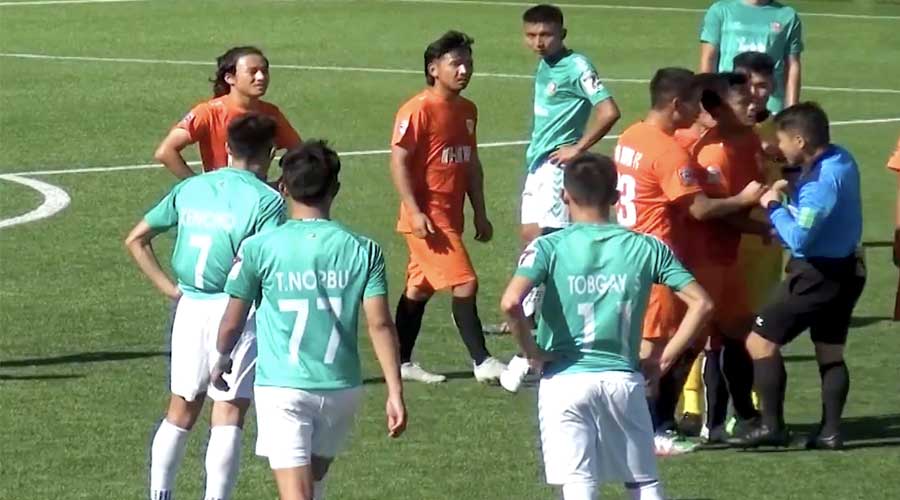 Thimphu City FC have moved to the top of the BoB Bhutan Premier League after their latest win on Thursday. They defeated Paro Rinpung FC with five goals to nil in a heated match that also saw two players from the losing team get sent off. The Bhutan Football Federation will also be investigating the season's first disciplinary case following reports from yesterday's match officials of unsportsmanlike behaviour by some players.
The match turned ugly less than half an hour into the game after the visitors of Thimphu City were awarded a penalty. Players from the home team swarmed the match referee reasoning that the decision was unfair. The referee also showed the first red card of the game after one of the players continuously confronted him.
Thimphu City's top scorer Dawa Tshering scored his fifth goal of the season after scoring from the penalty spot.
The second red card came a few minutes later following Thimphu City's second goal by their foreign recruit Adrian Garcia. The home team players claimed offside but then the referee showed a red card to one of the players after what seemed to be the use of foul language. The player sent off also slapped away the card from the official's hand.
It was a one-sided display from then on with the home team carrying on with only nine men.
Meanwhile, the BFF's Disciplinary Committee is set to hold talks tomorrow. An official said they will be imposing fines or player suspensions if they find that the Federation rules were broken.
Tshering Dendup
Edited by Yeshi Gyaltshen