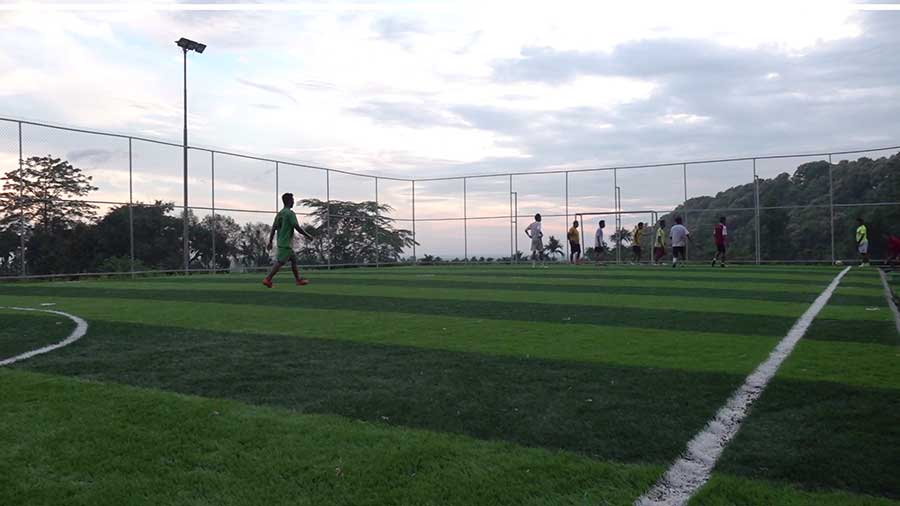 Samtse gets its first futsal ground. With the facility, football lovers in the district can not only get more game time but can also play football in the evening, something which was not possible in the past.
With the only artificial turf football ground in the district remaining booked and unavailable most of the time, local football lovers didn't have much of a choice when it came to game time.
But now with the completion of a futsal ground by a private individual, football lovers are switching to futsal.
While not many people can be seen in the afternoon due to extreme heat, it is towards the evening that the ground remains packed most of the time.
Football enthusiasts are happy that such a facility is finally made available in Samtse.
"Since the public ground here remains booked most of the time, we don't get opportunities to play more. But now with this facility, interested people can come here in the evening and play the game. This will not only help football lovers but will also help in keeping youths meaningfully engaged," said Jigme Yeshi, a resident.
"It has become very convenient for people like us. We have to work in the afternoon and don't get time to play. But with the completion of Samtse's first ever futsal ground, we are happy that we can now play in the evening as well," said Tashi Phuntsho, another resident.
"It is for the first in Samtse that we can play a game of football even in the nighttime. Without a lighting facility, most games are played in the afternoon. But all thanks to the new ground here, we can even play during the nighttime. It is a new experience and we are loving it," said Kinzang Rinzin, a resident.
Likewise, more futsal grounds are expected to come up soon in the district. Receiving numerous proposals, the Samtse Dzongkhag Administration, for now, has approved the construction of two more futsal grounds, one each in Sibsoo and Tendruk.
Passang Dorji, Samtse