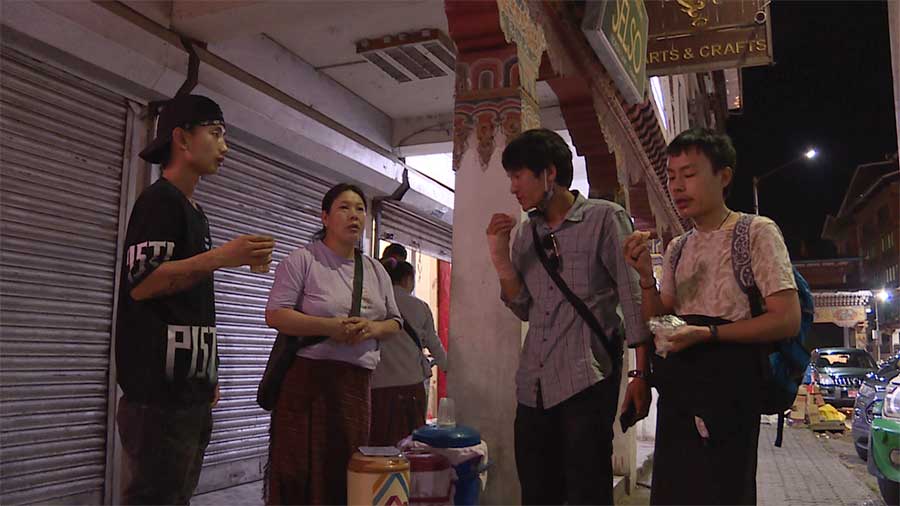 Through cold winters and rainy summers, street hawkers in Thimphu struggle to put food on the table. They make their living selling steaming tea, porridge and dumplings to patrons of the capital's nightlife. According to them, the best time for their businesses is after midnight when people visiting the entertainment facilities come out in the street to return home. That was in the past, today they are frustrated after the police restricted them from doing business beyond midnight. 
Friday evenings bring in more work for Phurba Wangmo who lives in Thimphu. It also brings the prospect of a better income. The single mother of three from Trashi Yangtse has also a sick father to look after. Her only source of income is from selling porridge and dumplings. And she looks forward to Fridays and weekends when the city barely sleeps. The ritual of preparing her business starts at about 6 pm and she is out in the street by 9.
However, she is now worried about making the ends meet after her business timing was cut short.
"My father is 77 years old and he needs oxygen support. I can't work during the day because I have to look after him. I can't even go back to my village since I don't have anything there. Because of all this, I have been selling porridge and dumplings. The police do not allow us to do business after midnight, but we could hardly earn anything until that time. Since we have to throw away the leftovers which is a huge loss to us, we would be grateful if officials extend our business timing," she said.
Phurba has been in this business for the last four years.
Like her, 26-year-old Tshering Yangdon is the sole bread earner of her family of three. According to her, she was brought to the capital when she was quite young as a babysitter. Today, she sells porridge on the street since she has to feed her family.
"I sell porridge here because the place has many entertainment establishments. The facilities close at midnight and people come out to buy from us. But the police order us to also pack up. We prepare and bring so much here and everything goes to waste in the end," she said.
Today, there are about 70 street hawkers in Thimphu. They also have similar stories that led them to make a living through such a business. They all want the authorities to look into their business timing.
"We don't do business before 9 pm. We know that the hotels need to pay taxes and all, that's why we only sell our stuff after the hotels close. So we only have about three hours to do business, beyond that the police do not allow it. We could hardly sell much in this period. The business will go well if we are allowed to sell at least an hour or two more," said Zangmo, also a street hawker.
According to the police, strict timing was implemented because people crowd the stalls and sometimes unnecessary fights break out among them. Some street hawkers were also reportedly found selling betel nut and tobacco products.
However, the hawkers say people come to their stalls to have hot refreshments and not to vent their frustrations. They say fights breaking out after visiting their stalls make no sense.
"They say people crowd our place after coming out from Karaoke and all. But to blame our stall for the fights holds no water because our porridge does not cause intoxication. If people don't visit our stall, it is of no use for us to stay here. If they really want to monitor, they should better go after the bars because our porridge is clean," said Tshering Lhamo, a Street Hawker, Thimphu.
While there are no expert views on whether their porridge causes intoxication or not, the clock is striking 12 for the hawkers. Calling it a night with dampened mood just like the weather, Phurba Wangmo also returns home to her children and sick father. She will again come out with her goods tomorrow hoping that the authorities will allow her and other hawkers a time extension.

Karma Wangdi
Edited by Sonam