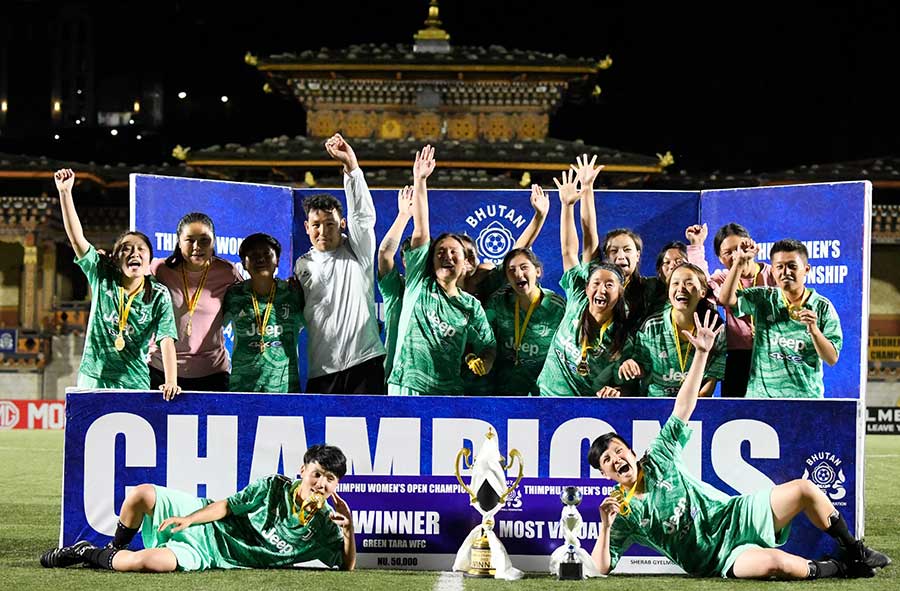 Green Tara Women's FC defeated United Ladies to become the Champions of Thimphu Women's Open Championship yesterday. The experienced former national players and old friends dominated the entire match and scored four goals.
Football is much more than just a game where you score a goal or win a match. It's a relationship where only love prevails. Love for the colours you wear, for that crest you touch right above your heart when you pray and for those boots you lace up in the hope that your legs pump harder than your heart does.
No wonder it is the most popular sport in the world and likewise in Bhutan. It is an event that brings together long-lost friends, families, and even rivals.
During the match yesterday, Green Tara Women's FC scored two goals in the first half and added two more in the second half easily sailing to victory.
"Just in case, if things did not go our way, we thought of transitioning to a defensive approach. We never thought of losing though. It's because most of us are experienced players and we won. Some of us are coaches here so we did not even practice once because we know how to go about during a game," said Sherub Gyelmo, Captain of Green Tara Women's FC.
The team was formed some 18 years ago when a young group of girls came together to play a friendly match. Likewise, United Ladies are mostly college mates and friends from the College of Language and Culture Studies. After the Volleyball Championship last month, they decided to take part in the football championship as well and never hoped to reach the finals.
"We did not expect to reach the finals. So, we are happy just getting to the finals. They have former national players and even club players and we have none. Many of us are former players from Taktse college. Since they are very good, we thought we would concede even more goals than we did. We are happy with the goal margin," said Kezang Pema, Captain of United ladies.
With the Kelme Women's National League right around the corner, such an open championship is expected to keep the anticipating teams ready and also draw more women into the sport.
Tshering Dendup