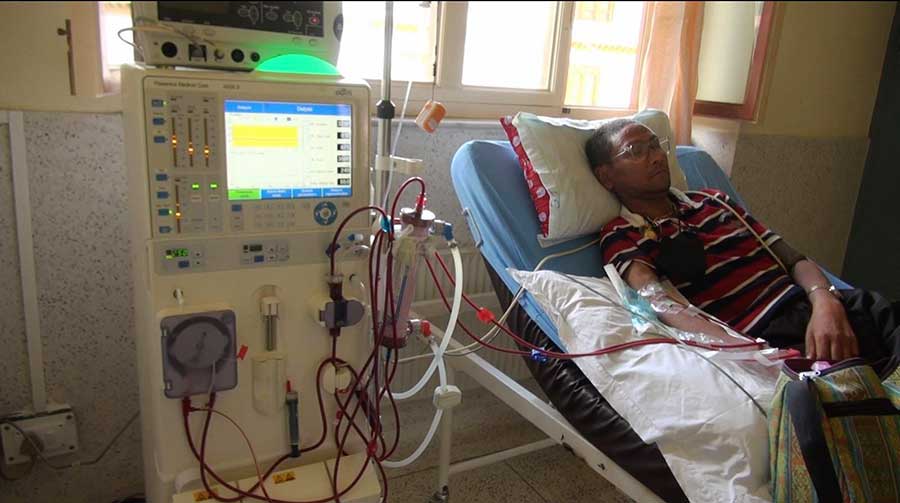 Travelling a long distance for dialysis service is one thing, returning after the service is another. Some kidney patients feel exhausted after undergoing dialysis, and travelling makes it worse. This was the trouble faced by some 21 kidney patients in Paro. But not anymore. The district now has a dialysis unit.
Diagnosed with kidney failure sometime in 2018, 38-year-old Kinzang Wangchuk from Satsham in Paro has been travelling to Thimphu twice a week for dialysis. Dialysis is a process of removing wastes from the blood when kidneys can no longer do the job. The frequent travel was an economic burden to his family. It was a tiring task as well, given his health conditions.
After the government recently set up dialysis services in the Paro Hospital with two machines, kidney patients like him consider it a blessing.
Connected to the machine with tubes and needles, Kinzang said he no longer has to worry about the laborious journey to Thimphu for the dialysis service.
"Earlier we had to travel to Thimphu on Tuesdays and Fridays for dialysis. Since last year the proprietor of Meta resort provided us with a free bus service that has benefited us a lot. Still then, travelling long distances is not easy for us. It was worse while returning after dialysis. Now as the unit is open in our hospital we are very grateful," he said.
"It is convenient for us, as we don't have to travel here and there. Earlier we reached home late after dialysis in Thimphu. Here we finish at 1 pm so we can go home early as well," added Tashi Tenzin.
Currently, there are two professionals at the unit to provide the dialysis service. The hospital is waiting for additional staff.
"We are in the process of acquiring additional manpower with experience in dealing with dialysis. In addition, we are trying to recruit some more within our same staff so that we are able to address the manpower shortage. And last time when we talked with the ministry we were told that the ministry would send us a medical specialist here as soon as possible, possibly by the end of this month," said Dr Yowan Thapa, from the Paro Hospital.
With this, six districts in the country have dialysis units now. There are close to 300 kidney patients in the country today.
Namgay Wangchuk, Paro
Edited by Sonam