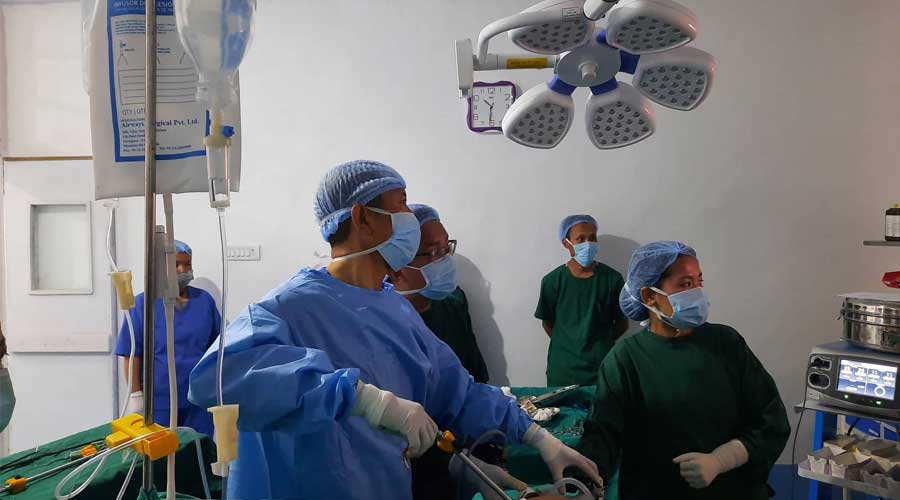 Prime Minister Dr Lotay Tshering performed surgery on eight patients at the Wangduecholing Hospital in Bumthang yesterday. The Prime Minister is currently in Bumthang meeting the people of the four gewogs, local leaders, civil servants and students. 
Among the surgeries, there were three gallbladder removals, three female sterilizations, a lipoma or fatty tissue excision and an oral operation. The recently recruited specialists at the hospital helped the Prime Minister with the surgeries. The specialists are recruited as part of the government's cluster hospital initiative where people in every two districts will be provided specialist services from one central hospital. Wangudecholing Hospital is the cluster hospital for Bumthang and Trongsa districts.
"We have clubbed the districts with one common hospital. It is like the referral hospitals in Monggar, Gelephu and Thimphu that we had in the past. We cannot provide specialist services in all the districts and I don't think it is required as well. We are studying that. Today, though we call the referral hospital in Thimphu the national referral hospital, the quality of patients we get is like in any other general hospital. Based on the name of the hospital, the quality of the patients must also change," said Lyonchhen.
The Prime Minister during an interactive session with hospital staff in the evening said the medical specialist for Wangduecholing Hospital promised during the Chhoekhor_Tang bye-election would arrive after a few months. The hospital was provided with an anesthesiologist, a paediatrician, a gynaecologist and a surgeon in May. Doctors pointed out the need for more equipment and staff at the hospital.
"We have a couple of doctors here but nurses are not enough. We need a bigger emergency room and additional machines for hormone profiling and blood tests at the lab," said Dr Benu Prasad, at the Wangdicholing General Hospital.
The Prime Minister said all the requirements the hospital proposed will be provided but in a phased manner.
Kipchu, Bumthang