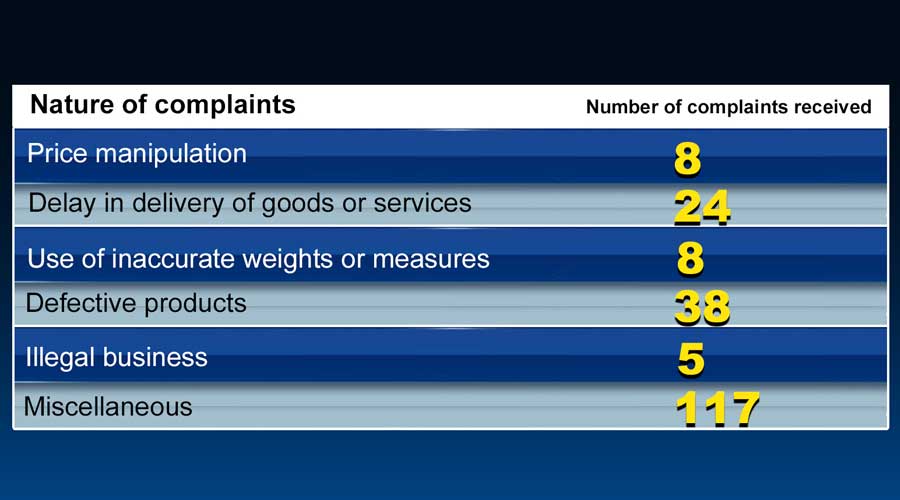 The Office of the Consumer Protection (OCP) received 200 consumer complaints in the 2021-2022 fiscal year. This is a huge decrease from more than 350 complaints received in the previous year. As per the OCP's annual report, the office also imposed a total fine of more than Nu 200,000 on various business entities. The report was released today.
The OCP inspected nearly 2,000 business entities across the country based on the complaints. The complaints were mainly about defective products with about 40 complaints. It was followed by delays in the delivery of goods and services with over 20 complaints. Eight complaints were about price manipulation and five about illegal business among others.
Business entities that violated the consumer protection rules and engaged in unfair trade practices were either directed to rectify or were fined.
According to the office, the reduction in the number of complaints may be because the entities are getting aware of the consequences of not adhering to rules and regulations.
Consumers in Thimphu Thromde made the highest complaints at about 150. Wangdue Phodrang had seven consumer complaints and Phuentshogling had six.
As per the report, the highest number of complaints received was during the lockdown in January and February. Complaints during the lockdown were mainly of overcharging of essentials like vegetables, and fruits. People also complained about LPG delivery agents selling the LPG beyond the maximum allowable selling price.
Most of the complaints were made online and to the office toll-free telephone number 1214. Fewer people walked in to complain.
According to the report, apart from complaints, regular market surveillance is also carried out to ensure fair trade.
Sherub Dorji
Edited by Yeshi Gyaltshen