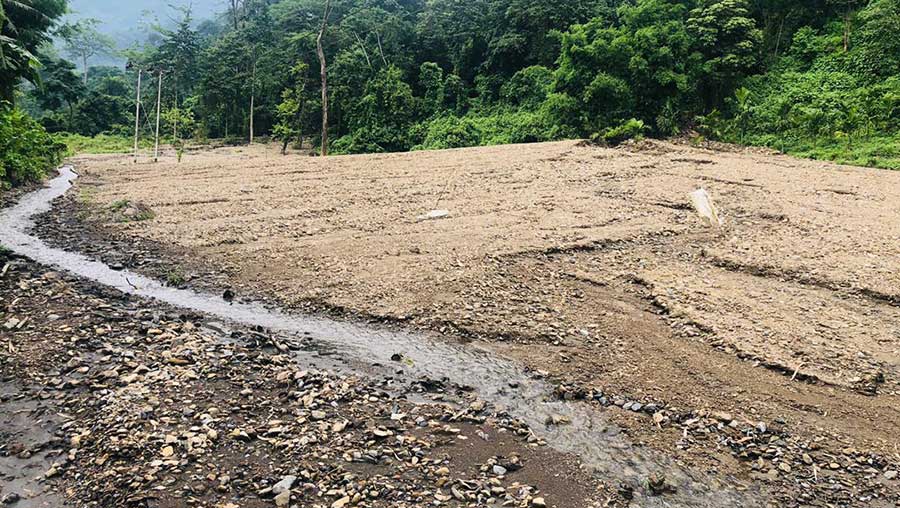 The recent heavy rain created havoc in many parts of the country. The incessant rainfall triggered landslides and flash floods which damaged many infrastructures including roads, bridges, and fields, and even claimed lives. In Minjigang chiwog in Samdrup Jongkhar, some seven acres of paddy fields are covered with debris and farmers are not able to cultivate paddy this season.
Usually, at this time of the year, farmers of Minjigang chiwog in Phuntshothang Gewog transplant paddy. But this year, some families are yet to start their work.
One of them is Jit Bhudhur Kami. He has two acres of land but they are filled with debris brought in by the flash flood. The flash flood which occurred last month damaged the fields of twelve farmers including Jit.
"From the two acres of land, I used to produce rice for 18 of us in the family. Now the land is damaged and I am worried. All of my fields are damaged," said Jit Bhudhur Kami.
"Heavy rainfall caused the flash flood and it damaged half an acre of my paddy field. Even the irrigation channel was damaged," said Tej Bhadhur Subba, another farmer.
According to the Phuntshothang Gewog administration, a report was sent to the district administration. The Gup said the gewog administration will help the villagers to restore the fields with minor damages.
The office is also repairing the irrigation channel which was damaged by the flash flood. If it takes some time to clear the debris, farmers like Jit will have to depend on imported rice next year.
Kinley Wangchuk, Samdrup Jongkhar
Edited by Tshering Zam