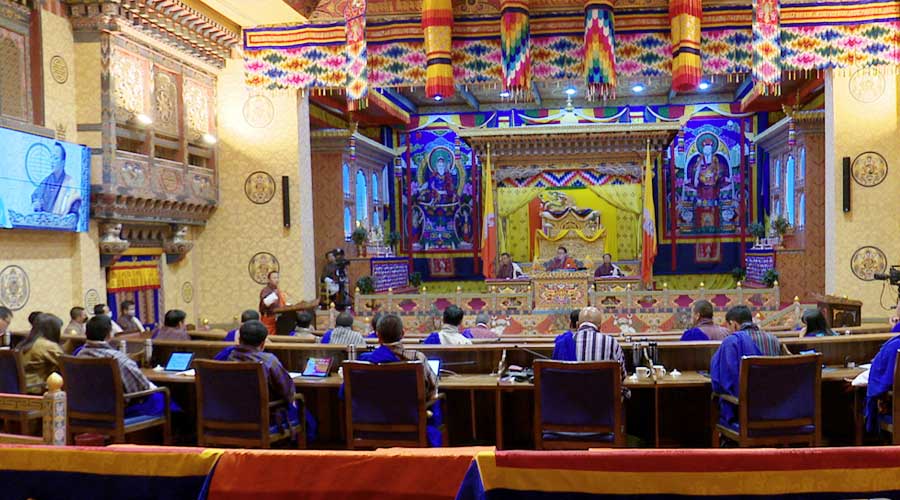 Bhutanese youth will be among the major beneficiaries of the new Tourism Levy Bill. The finance minister said this in the National Council yesterday. The minister introduced the Bill in the house of review after it was passed by the National Assembly.
Finance Minister Namgay Tshering said it is a misconception to think that the Tourism Levy Bill will affect the livelihoods of those working in the industry including the tour guides and those in the service sector.
Calling on the members to support the new policy, Lyonpo said all should focus on how to achieve the objectives of the policy:
"I believe that the new policy will benefit the youth. And quantity is not important for that. If we have a few quality tourists, it will be able to generate better income for the youth."
Speaking along the same line, Foreign Minister Dr Tandi Dorji, during a live panel on BBS, said the government will allocate a substantial amount of the revenue from the SDF to training institutes. The institutes will specialize and professionalize the youth working in the tourism industry.
"The government will invest money and will provide reskilling and upskilling training. That way, we will provide jobs to the tour guides, and chefs which are currently being taken by expats. Even for the guides, we need to professionalize them, they have to be able to speak foreign languages."
Lyonpo also said such upskilling is already underway. "For instance, we are training the guides at the Phaduna training institute. Likewise, we are also giving chef trainings so that in the future we don't have to hire skilled workers from other countries."
The Tourism Levy Bill proposes a Sustainable Development Fee of 200 USD per tourist per night. The National Council will adopt the bill on Monday. Since it is a Money Bill, it will come into effect from the day it was tabled in the parliament, that is 20th June 2022.
Phub Gyem