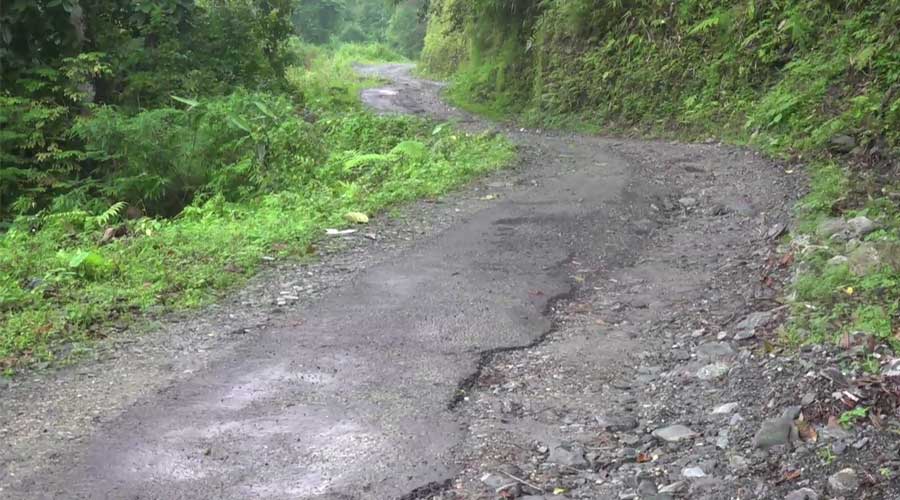 Monsoon rains are crucial for agrarian communities in the country. But on the flip side, they bring havoc on roads, affecting mobility and connectivity. In Serthig Gewog of Samdrup Jongkhar, the Gewog Centre Road has further deteriorated following the recent rainfall.
One of the portions of the road has been inundated by a swollen stream. Except for vehicles with four-wheel drive options, the road is not feasible for light vehicles, today.
According to the residents, this is an everyday ordeal during the rainy season.
"I get frustrated at the road condition. It is in a really poor state with huge potholes and uneven surface. When we hire vehicles, they charge high due to the terrible road condition. We face challenges in transporting vegetables to the nearest markets," complained one of the residents in Serthig, Tashi Phuntsho.
Apart from that, the GC road deters people to receive effective services from the gewog.
"For census registration, we need it to go to the gewog office. To construct a house, we need to seek clearance from the gewog office. So, it is time-consuming to receive these services," he added.
Other residents also shared about the problems they face due to the poorly maintained road.
"We become helpless during urgent times because we cannot reach to our coveted destinations on time," pointed out Norbu Chojey.
Due to landslides, the road is currently closed to traffic. But its condition is nothing better even during the dry season.
The blacktopped surface along the 23 kilometres of stretch has disappeared. Many potholes have also developed along the way.
The road was blacktopped in the fall of 2017.
People said there was a lack of quality control during the blacktopping works.
In a telephonic interview, Serthig Gup Tshewang Tenzin said it is challenging to maintain uninterrupted traffic during the monsoon.
However, the stretch will receive a minor facelift such as filling up potholes with a budget of Nu 1.5 M in the next financial year (2022 to 2023), which begins next month.
Despite the plan, the gewog does not have an adequate budget to carry out major resurfacing works.
Other GC roads in Samdrup Jongkhar are also in bad shape. The district has 11 gewogs. Except for Lauri Gewog, the GC roads in the remaining gewogs are all blacktopped.
Kinley Wangchuk, Samdrup Jongkhar
Edited by Pema Lhaden