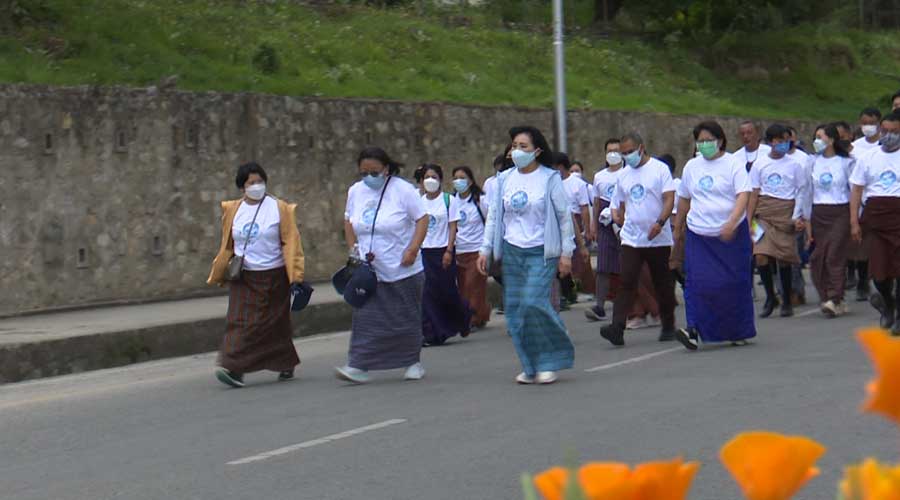 The Bhutan Youth Development Fund in collaboration with the Health Ministry and the World Health Organization observed the Walk the Talk event for the first time today. It is to create awareness on the importance of physical activity and dietary habits with a focus on reducing salt consumption. The event was graced by Her Majesty the Queen Mother Tseyring Pem Wangchuck. The walk the talk is an annual event organised by the World Health Organization to encourage people to be physically active.
To mark the day, more than a hundred volunteers participated in the event. The participants began the walk from the health ministry to the Youth Development Fund. Their Royal Highnesses Princess Chimi Yangzom Wangchuck and Kesang Chodren Wangchuck and Health Minister Dechen Wangmo joined the walk along with other officials and students.
According to the 2019 Annual STEPS survey, Bhutanese consume an average of 8.3 grams of salts per day which is higher than WHO's recommendation. WHO recommends consuming less than 5 grams per day.
''If we consume salt in line with the WHO's recommendation, we can reduce the risk of getting hypertension in the first place and other problems associated with salt like gastric cancer and then chronic kidney disease problems which arises due to uncontrolled hypertension," said Hari Prasad Pokhrel, Nutritionist of the Department of Public Health under the health ministry.
Stimulating a healthy behaviour change, the event included youth participation from various schools.
''What I understood from this program is that we have to decrease salt in our diet to make ourselves healthy. And salt increases chances of getting NCD that can harm you," said Tshewang Emsang rai, a student of Druk school.
According to the Annual Health Bulletin 2020, non-communicable diseases accounted for more than 70 percent of the reported deaths in the country. And most of these deaths are from heart diseases, diabetes, cancers and chronic respiratory diseases which are a result of unhealthy diet and physical inactivity.
Karma Wangdi
Edited by Sonam Pem