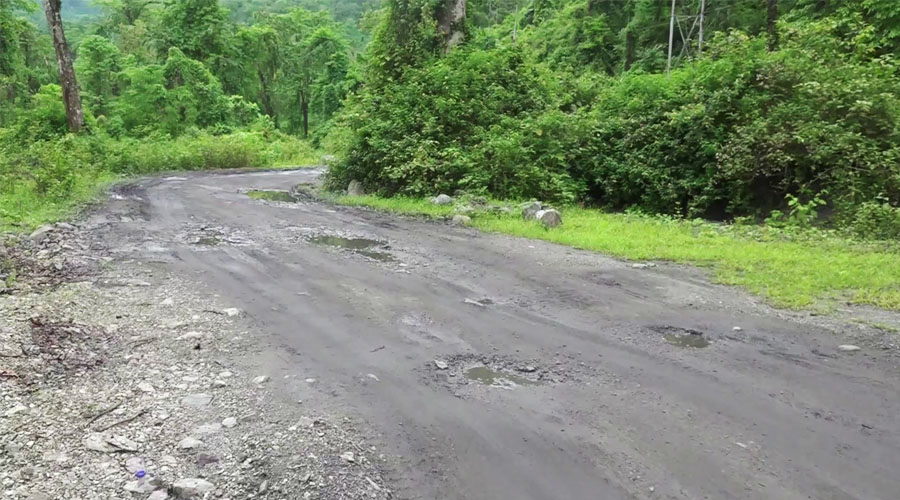 Maintained and blacktopped in 2016, the 13-kilometre Martshala Gewog Centre road in Samdrup Jongkhar is in need of major maintenance today. The road connecting the Martshala Gewog with Samdrupcholing Dungkhag town was the first GC road to be blacktopped in Samdrup Jongkhar.
It is riddled with potholes today and in some areas, there is no trace of blacktopping at all.
According to residents, the condition of the road turns worse during the summer due to landslides. The current condition is also taking a toll on the residents.
"During the rainy season, all the blacktop gets washed away. The road is not good here. With bad road, the maintenance cost of our cars shoots up," said Ajabi Singh Gurung, in Martshala Gewog.
"Before when it was blacktopped it takes 30 minutes but now with the bad condition, it takes almost an hour to reach the gewog centre," said Nima Wangdi, also from Martshala Gewog.
However, good days are not very far for the residents. Martshala Gup Yenten Dorji said about Nu 1.5 M has been allocated to maintain the road in the financial year 2022 to 2023. The Gup said the maintenance work will start by this July.
There are six chiwogs in Martshala Gewog with more than 500 households depending on ginger for income. With the road in dire condition, transporting ginger to Samdrup Jongkhar town has also become difficult.
And with the central school located in Martshala Gewog, the GC road is important for four gewogs in Samdrupcholing Dungkhag.
Kinley Wangchuk, Samdrup Jongkhar 
Edited by Sonam