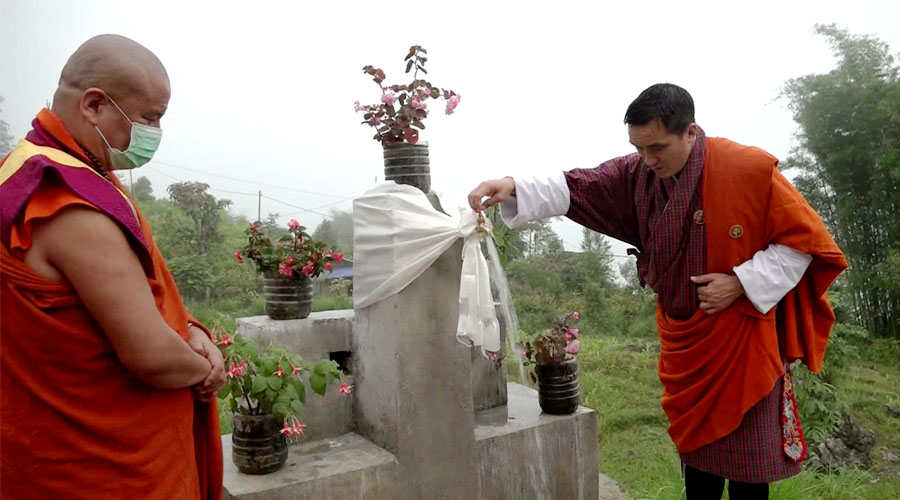 Access to safe and reliable drinking water was long overdue for the people of Khamaed chiwog in Jigmechhoeling Gewog of Sarpang. The chiwog located along the Gelephu-Trongsa highway has been facing water shortage, especially in winter. However, with the successful completion of the water project in the chiwog, residents can now have safe and reliable drinking water throughout the year.
The Works and Human Settlement Minister inaugurated the drinking water project last week. Commenced in December last year, the DeSuup National Service Water Project in Khamaed chiwog is sourced from Kabreychhu, some 35-minute walk from the gewog office.
Handing over the water project to the people, works and human settlement minister Dorji Tshering said people should consider the water as their wealth and take proper ownership. The minister also said Desuups who have put in efforts to bring the water to the doorsteps will visit the village to review how the water is managed after six to seven months.
Residents of Khamaed chiwog said the water project will now resolve their decade-long drinking water issue in the community and also encourage them to grow winter vegetables.
"This water is a soelra from His Majesty The King. We started receiving the water about two days ago. The DeSuups also came for inspection and told us to manage the water properly," said Tsagay, from Khamaed village.
Like Tsagay, other residents say their struggle every winter will finally come to an end. "Now we are relieved to have a reliable source. Moreover, we were told that this water is safe and clean," said Ambita Gurung.
"The Jigmechhoeling Khamaed chiwog DeSuup water project from Kabreychhu is finally complete. The water has arrived at the doorstep of every household. Everyone here is elated with this achievement," added Ati Raj Mishra.
The Sarpang Dzongda said the water project will resolve the drinking water shortage in the village and help the residents in maintaining sanitation in the community. Dzongda Lobzang Dorji acknowledged the DeSuups and officials involved in the successful completion of the water project. The Dzongda said they worked under harsh weather conditions for the community and to fulfil the aspiration of His Majesty The King.
The project was initiated at a cost of Nu 7.15 M. It will benefit 143 families of Khamaed chiwog. Close to 50 officials comprising DeSuups, Army and Engineers were involved in this project.
Karma Wangdi, Sarpang
Edited by Sonam