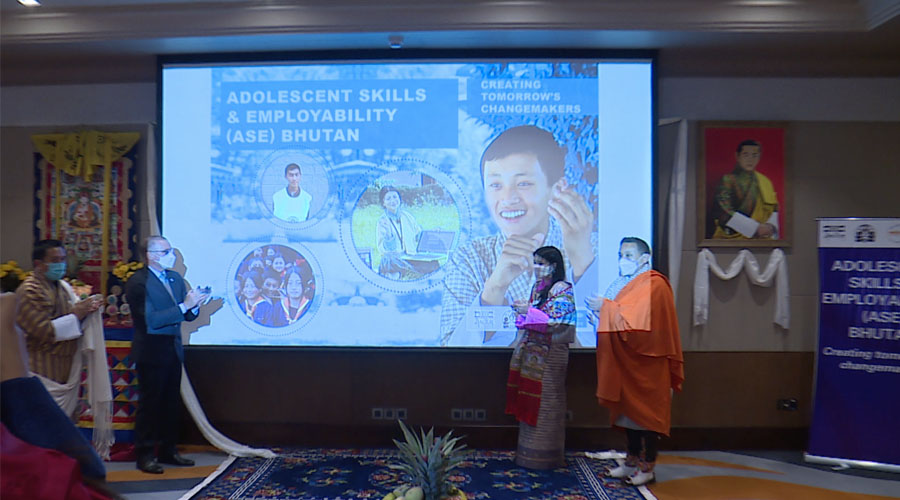 In keeping with the ongoing education reform initiatives, the education ministry in partnership with the Youth Development Fund, Loden Foundation and UNICEF Bhutan launched the Adolescents Skills and Employability (ASE) Project today. The project is expected to equip adolescents and youth with skills to become lifelong learners and positively engage in their communities among others. Her Royal Highness Princess Chimi Yangzom Wangchuck, the Vice President of Youth Development Fund graced the launch. 
Initially, the project will be rolled out in 64 schools and 10 youth centres selected by the project committee. The project will prepare at least 10,000 young people with technical skills, entrepreneurial mind set and 21st-century skills by using two programmatic approaches called UPSHIFT and UNISOLVE, initiatives of UNICEF's Office of Innovation.
UPSHIFT is a youth social innovation and social entrepreneurship programme that supports adolescents and young people to identify problems in their communities and design solutions to tackle those problems. It is designed to bridge the gap between education systems and the work environment.
UNISOLVE is a digital platform that helps young people develop the critical skills they need. It allows students to join as a team and complete a self-paced interactive online curriculum. They put their newly acquired knowledge into practice by identifying problems in their communities and developing solutions to address them—applying research, prototyping, and iterative design methods throughout the process. The course culminates with a "pitch", where students present their solutions for a chance to receive seed funding.
"So, the idea is, the students see issues in the community and then they try to use those ideas and then solve the problems in the community. And then through solving these problems, they also pitch ideas," said Pema Wangchuk, Deputy Chief Program Officer of the School Planning and Coordination Division under the Education Ministry.
"There are two kinds of offerings, one is social entrepreneurship, getting young people to focus on what they can do in the communities through the schools and the Youth Centres and change some of the problems they are seeing in their communities. And there is another project which is focusing on digital skills, so how can people learn to work in the digital world, learn how to engage in the digital project as well," said Dr Will Parks, UNICEF Country Representative.
At least 25 officials from agencies working with and for young people will be trained as master trainers from this month to roll out the UPSHIFT programme in 64 schools and 10 youth centres next month.
Also known as transferable skills or life skills, 21st Century skills allow young people to become agile learners and global citizens equipped to navigate personal, social, academic and economic challenges. These skills also help young people affected by crisis cope with trauma and build resilience. They include problem-solving, negotiation, managing emotions, empathy and communication.
Leveraging the digital platforms and partnerships, the ASE Project will inspire today's young people to become tomorrow's leaders.
"If I do not qualify from class 12, I can start a business. And this will not only benefit me but I can also provide job opportunities to others. This way, it will help reduce the unemployment rate in the country," said Karma Lhendup, a student of Motithang Higher Secondary School.
From 64 schools, the education ministry will select and award cash prizes to the 12 best ideas by the end of this year.
UNICEF and its Office of Innovation are supporting four countries in South Asia – Bangladesh, Bhutan, India and the Maldives to scale up a skilling program for eight million young people.
Karma Wangdi
Edited by Sonam Pem