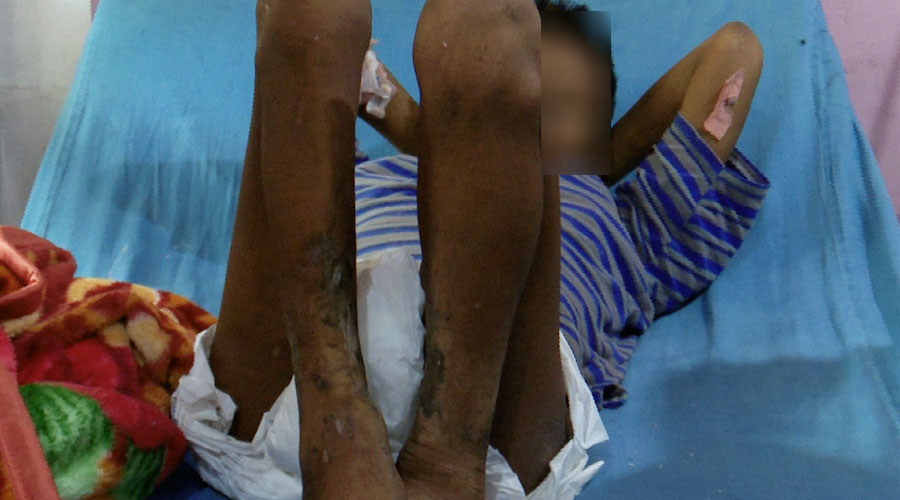 Like any other health condition, the most effective way of taming mental illness is seeking thorough medical intervention or support. Realising the urgency of such mental health services, a 28-year-old man with a prolonged mental disorder was airlifted from Sibsoo Hospital in Samtse to Thimphu National Referral Hospital on May 8.
The issue of his dire mental health condition also surfaced on social media recently. The man has been receiving all the required treatment at the national referral hospital in Thimphu for almost two weeks now.
According to his close family members, his mental health condition has improved a little. However, the concerned doctors were unreachable for comments.
The man was born in Norgaygang Gewog in Samtse. His mother said he showed early symptoms of a mental disorder when he was 10 years old. However, his condition became chronic five years later.
"He didn't take medicines at all and then his conditions worsened. Apart from medical treatment, we performed rituals at home to heal his mental health problem," said his mother.
His mother also narrated that due to his worsening mental illness, he developed a severely impulsive behavioural attitude. With no signs of improvement, his family shackled him in a makeshift hut during the recurrent lockdowns earlier this year.
"When he was in the village, we faced difficulty in looking after him. He created a lot of problems in the community such as physically assaulting people. When he was locked up, he became volatile and banged the walls. So, we chained him," added his mother.
His uncle, Thakur Singh Rai, also shared about his mental health condition.
"He will refuse to wear any clothes. Instead, he will either take the clothes off or tear them. He would also defecate on the clothes. So, we stopped asking him to wear clothes."
The man's mental health condition along with the photo of his shackled feet was recently circulated on social media. Following this, the local authorities in Norgaygang investigated the matter to ascertain the fact.
"As per the information we gathered from the family members, previous LG leaders and the villagers here, we came to know that it was a piece of false information. Having no other options, the family had to chain him this February and they strongly deny that they have shackled him for the last seven years," clarified the Norgaygang Gup, Shyam Kumar Gurung to the BBS Correspondent in Samtse.
Some of the former local government members also said the man was not badly treated by his family members.
"It is not that his family didn't look after him properly. No, he was not chained for the last seven years. I have seen him given a separate room by his family members. But due to his condition, he broke the walls of the house and escaped frequently to create nuisance in the community," said the Former Tshogpa from one of the chiwogs in Norgaygang, Subash Rai. He is also the man's neighbour.
Despite odds stacked against his family, there is a lingering hope of overcoming his mental illness.
According to the American Psychiatric Association, mental health conditions are treatable and improvement is possible. Many people with mental health conditions return to full functioning. Some mental illness is preventable.
The association is the main professional organisation of psychiatrists in the United States, and the largest psychiatric organisation in the world.
What is mental illness?
According to Mayo Clinic, mental illness, also called mental health disorders, refers to a wide range of mental health conditions – disorders that affect your mood, thinking and behaviour. Mayo Clinic is a nonprofit organisation committed to clinical practice, education and research, providing expert, whole-person care to everyone who needs healing.
Examples of mental illness include depression, anxiety disorders, schizophrenia, eating disorders and addictive behaviours.
Many people have mental health concerns from time to time. But a mental health concern becomes a mental illness when ongoing signs and symptoms cause frequent stress and affect your ability to function.
A mental illness can make you miserable and can cause problems in your daily life, such as at school or work or in relationships. In most cases, symptoms can be managed with a combination of medications and talk therapy (psychotherapy).
Social discrimination and stigmatisation against mental illness
The stigma around mental illness is prevalent around the world. In Bhutan too, individuals suffering from mental health problems face public discrimination and stigmatisation.
These factors contribute to the reduced likelihood of getting treatment for mental health patients.
Whenever the issue of mental health came into the limelight or was discussed in the public domain, psychiatrists stressed overcoming discrimination and stigmatisation against individuals with a mental disorder.
Some of the highest law making bodies in the country such as the parliament also talked about the need to bolster public awareness of mental health issues.
Nevertheless, mental health has become a national health priority following the initiation of The Pema Centre – a hospital for mental health and wellbeing within the Jigme Dorji Wangchuck National Referral Hospital (JDWNRH) complex last year.
It is a Royal Initiative of Her Majesty The Gyaltsuen. The groundbreaking ceremony for the construction of the hospital was held in November last year.
The Pema Centre will be a 60-bedded hospital with mental health services such as outpatient consultation and counselling, emergency services, treatment and procedure rooms, inpatient wards and a pharmacy.
Choni Dema & Passang Dorji
Edited by Pema Lhaden