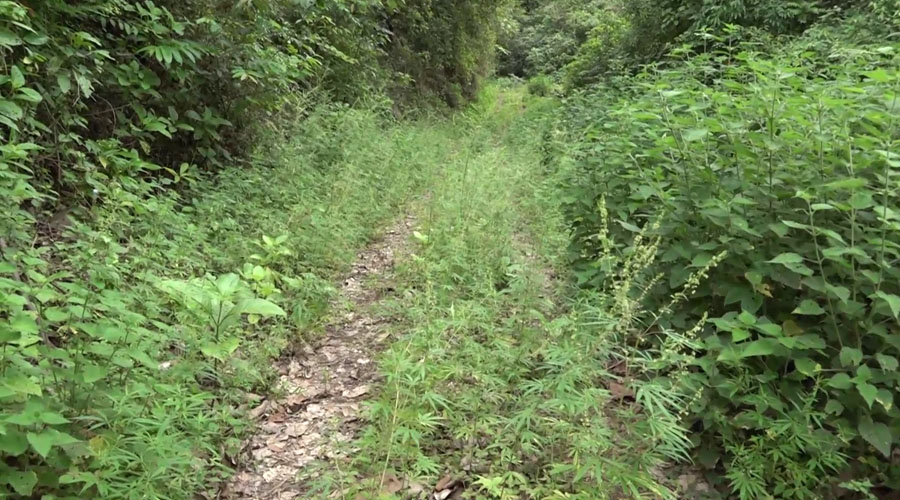 A farm road is considered a prelude to development in a village. It is a joyous moment for the residents when their village or field gets connected by a farm road. For the farmers of Dhakpai in Nangkor Gewog of Zhemgang, their happiness was short-lived. This is because the farm road connecting their fields is not motorable anymore.  
The two-kilometre road connects the fields in Bhuktigang of Dhakpai village's farmers from the Zhemgang-Tingitbi (Jewangolai) highway. What is supposed to be a farm road is covered in thick bushes, with no trace of the road today.
"The road to our paddy field is in poor condition. The road is not even fit for heavy vehicles. So, many cars are kept below the road point and the road is covered in long grasses mainly because of the little traffic," said Dawa Penjor, a farmer in Dhakpai village.
The farm road was constructed in 2018 through the GOI funding. It is to encourage farmers to enhance their rice productivity with easy transportation in 25 acres of paddy fields at Bhuktigang. But the road looks abandoned and is in dire need of maintenance today to serve this purpose.
"We did not abandon the road, we do maintenance once at the onset of summer and then in winter. We collectively maintain our farm road and it has been quite beneficial," said Lhakpa Tshering, a farmer in Dhakpai.
"We are taking care of our farm road. The road, for now, is not even suitable for four-wheel-drive cars since there is a need for realignment at three locations. If these stretches are realigned, then the road would be good enough," added Sonam Jamtsho.
However, the Gewog Administration said that only major maintenance would be done by the Gewog as per the farm road guidelines. Otherwise, once the road is handed over to the people, all minor maintenances should be done by the beneficiaries.
Dhakpai village has 17 households.
Pema Samdrup
Edited by Sonam