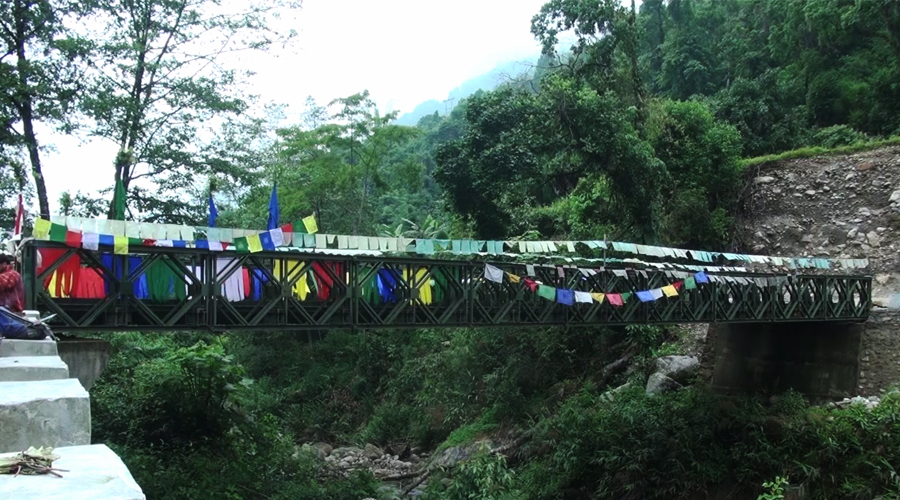 The newly launched bailey bridges over Dhapchhu in Geling Gewog and Gumilumchhu in Maetakha Gewog in Chhukha bring the farmers hope for a better future. Agriculture Minister Yeshey Penjor inaugurated the bridges yesterday.
The new bailey bridge over Dhapchhu is expected to make the lives of farmers in Dhap-Omchhu easier.
"We are putting more effort into agricultural activities from this year as we are now connected with a new bridge. Now, even other people in the village are planning to buy vehicles," said Kinga Rinchen, in Dhap-Omcchu in Geling Gewog.
Earlier, despite having a farm road for the last three years, it failed to serve its purpose, especially during the monsoon. Residents say even lives were lost trying to cross the river.
"Without a bridge here, there were two casualties before. A woman and a 12-year old girl were washed away by the river here. With the new bridge, we hope that things will be better hereon," said Tsagay, also from Dhap-Omchhu.
"Though farm road was there, without a bridge it was difficult to commute especially during monsoon. During winter, we could cross the river but it becomes difficult during the summer due to the swelling river. We live on the other side but we have land on another side of the river. So, it was difficult even to reach our fields on time," added Pema Tshering, also from Dhap-Omchhu.
The two bridges will benefit nearly 4,000 people from three gewogs of Geling, Maetakha and Dungna in Chhukha and Naja Gewog of Paro.
Sonam Penjor, Chhukha
Edited by Sonam