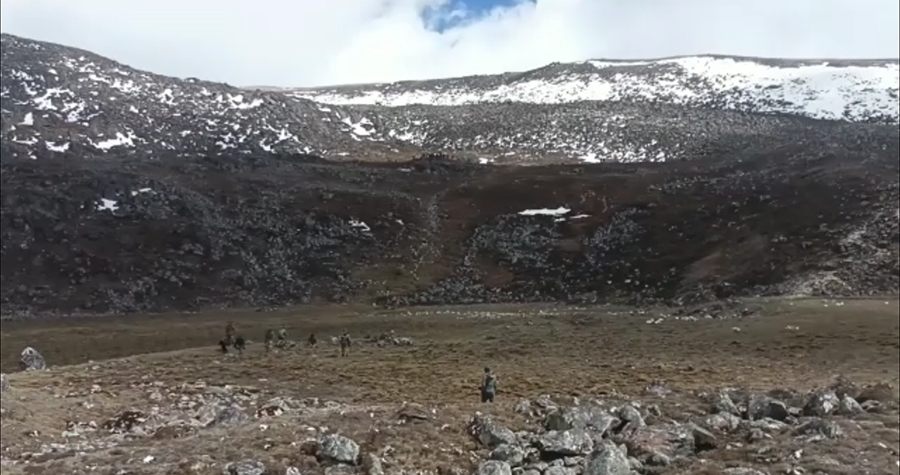 A soldier from the Royal Bhutan Army sustained serious head injuries from being hit with rocks by a group of people illegally collecting cordyceps in Lunana. According to a press release from the Department of Forests and Park Services, MoAF, the soldier was medically evacuated by helicopter and is undergoing treatment. Several other soldiers on patrol who sustained minor injuries during the incident are being treated by a doctor on duty at Lunana.
The incident occurred on May 12th. A group of over three hundred people from Sephu and Dangchu villages had entered Lunana to illegally collect cordyceps. They were found by a 5-member patrol team of RBA and forest personnel on duty at Tshokina, Lunana. When the patrol team attempted to send the poachers back, some of the people began throwing rocks, causing the injuries.
Cordyceps sinensis is an insect- fungus highly prized in traditional Oriental medicine. It is found in high altitudes, in some of the harshest terrain in Bhutan, including Lunana.
The collection of cordyceps has improved the livelihoods of our highland communities who live in the most difficult terrain in Bhutan and do not have any other source of income. There are strict regulations in place to prevent over-harvesting, which would lead to extinction of the fungus.
The right to collect cordyceps from a particular area is limited to those highland communities who live in the gewogs where it is found.
However, there have been many incidents of intrusions by people from outside these communities to poach cordyceps.
The patrol team has reported 6 separate incidents between April 21st to 11th May 2022 of poachers from Sephu and Dangchu being caught with illegal cordyceps. In these previous
incidents, the poachers verbally abused the patrol team and tried to intimidate them with knives. They had been stopped and turned back with warning.
It is a serious offense to assault uniformed personnel on duty.