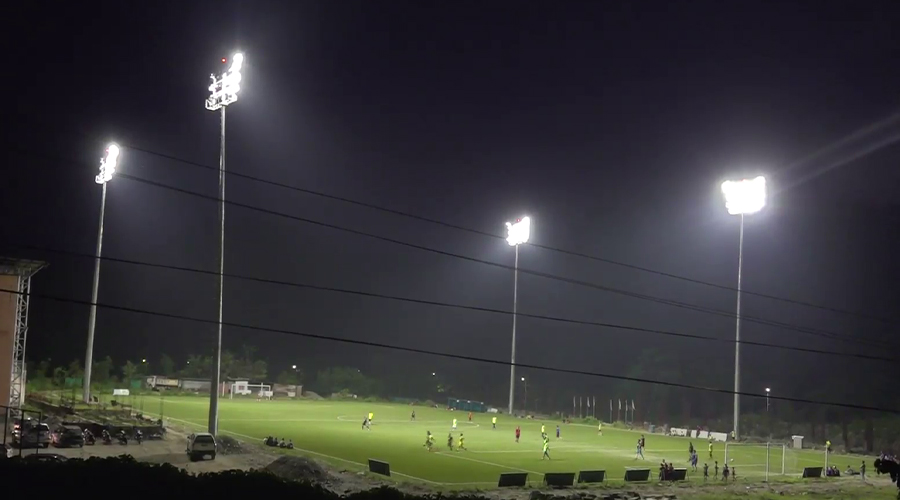 In the last two years, sports took a backseat due to the COVID restrictions. But with further relaxations, it is all set to thrive again. In Samdrup Jongkhar Thromde, the installation of additional facilities such as floodlights at the football ground has heightened the excitement among sports enthusiasts.
The installation of floodlights was supposed to complete last October. But due to the pandemic, it was completed just recently. This has enhanced the frequency of matches played during night hours. Now, football enthusiasts can play three to four matches from 4 PM to 10 PM.
Earlier, only one to two matches were played until dusk.
Some sports enthusiasts said they no longer have to endure scorching heat during the day to play football.
 "We had no choice but to play in the heat. Now the ground is equipped with lighting and that will facilitate us to play at night," said one of the loyal football fans, Sonam Tenzin.
"This year I think it will be convenient as matches can be played during the night. I will soon plan to organise departmental tournaments here and the lighting facility will definitely benefit us," said Norbu, a local football tournament organizer in Samdrup Jongkhar.
Soccer fans from nearby gewogs and Pema Gatshel District have also made bookings for the ground to play matches. For one night match, the Samdrup Jongkhar Sports Association charges Nu 3,500 and Nu 2,500 per day match.
The lighting facilities were set up at a cost of Nu 7.3 M and funded by the Bhutan Olympic Committee.
Kinley Wangchuk, Samdrup Jongkhar
Edited by Pema Lhaden