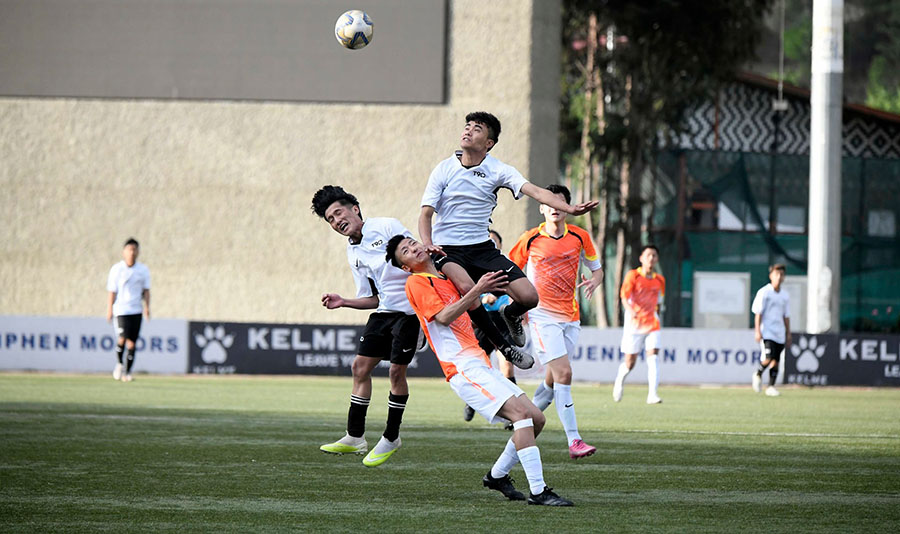 To encourage the formation of more football clubs and to give an equal opportunity to everyone, the Bhutan Football Federation is currently organising district tournaments.
The BFF is collaborating with the top Bhutan Premier League Clubs and District Sports Associations to conduct the tournaments. In Thimphu, the BFF is partnering with Thimphu City FC to organise the Thimphu District League 2022 which began on Monday.
Six teams are currently playing in the Thimphu District League. They are all teams from Thimphu aspiring to establish a name for themselves to form an official football club.
"District leagues are not just limited to Thimphu. There are other districts too. BFF has identified BPL teams in their respective districts to organise the tournaments. Since we are one of the top teams, we have got the opportunity to organise it here. BFF has provided us with grants to organise these tournaments," said Yeshey Dorji, Secretary-General of Thimphu City FC.
Likewise, ten teams from Gelephu, six from Paro, seven from Punakha, and also teams from Tsirang and Chhukha are expected to register for the tournaments. A budget of Nu 200,000 is also provided to organising districts.
"We are organising these tournaments with one main goal, that is to find and create some full-fledged official football club. In the past, we gave the district league champions direct entry into the Bhutan Premier League qualifiers but we did not get good teams," said Kinley Dorji, head of the Competition Department, BFF.
"So, from this year, only the players from the district league will be allowed but the champions of this year's district league will only get to the qualifiers of BPL next year," he added.
Like many, although the pandemic has adversely impacted football in general, such initiatives will go a long way in the development of the sport with new teams and clubs working their way up the ladder with grit and enthusiasm.
Tshering Dendup