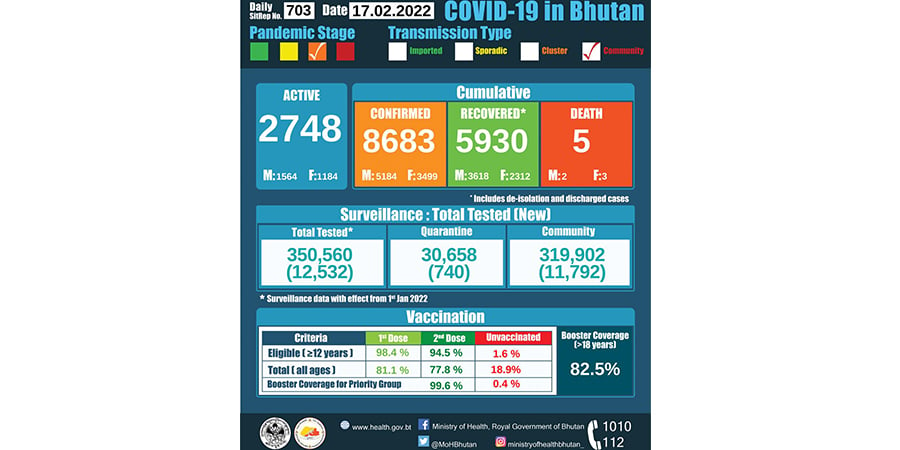 The country reported yet another one-day highest new COVID cases since the pandemic hit the country in 2020. 386 new cases were detected in the last 24 hours. Wangdue Phodrang and Phuentshogling continue to report most community cases despite being placed under lockdown. The districts recorded over a hundred new community cases each today. Meanwhile, the country also reported the oldest COVID positive case in a 103-year-old woman today.
Wangdue Phodrang reported 134 new COVID cases. 111 cases are from the community, 20 are contacts and three cases are detected in domestic travellers.
Similarly, Chhukha detected 124 new cases. Of it, 105 are from the community, 17 contacts and two domestic travellers. All cases are from Phuentshogling.
Samdrup Jongkhar recorded 69 new cases; eight are community cases and 28 contacts from Samdrup Jongkhar Thromde, and Dewathang and Samdrupchhoeling reported 31 and two contact cases respectively.
Samtse reported eight new cases of which five are community cases from Norbugang, Tading and Tempaling and three contact cases from Sherabling.
Sarpang reported 12 new cases, three from the community and nine contact cases.
Pema Gatshel reported 26 new cases from Nganglam; 11 from the community and 15 contacts cases.
Thimphu detected 11 new cases, all are domestic travellers in quarantine facilities.
Paro reported two contact cases from quarantine facilities.
Meanwhile, 214 individuals are declared recovered today.
Phub Gyem