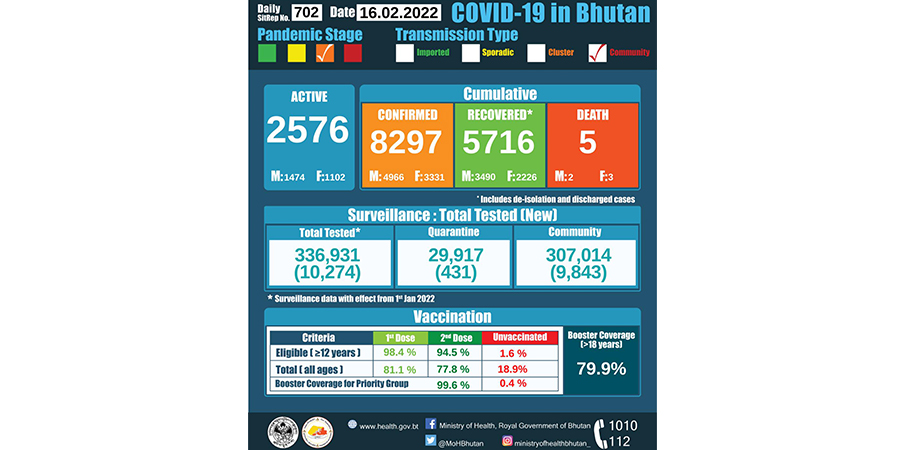 The country reported a single-day spike of 381 new cases of COVID-19 today, the highest since the pandemic stuck the country in March 2020. After a month of lockdown, Wangdue Phodrang, Chhukha, Sarpang and Samdrup Jongkhar continue to detect cases from the community. Meanwhile, Thimphu also reported a case from the community four days after the district opened up. 
Wangdue Phodrang detected 263 new cases of COVID-19 in the last 24 hours, the highest single-day count ever reported in the district. While 260 cases were from the community, two cases are domestic travellers and one, a contact. Similarly, Chhukha district reported 49 new cases from Phuentshogling; 29 from the community and 20 contacts.
Samdrup Jongkhar recorded 27 new cases today from Dewathang, Jomotshangkha, Samdrup Choeling and Samdrup Jongkhar Thromde. Except for two community cases from Dewathang and five in Samdrup Jongkhar, all the other cases are contacts. And Sarpang district logged 23 cases, six from the community and 17 contacts. All the cases are from Gelephu.
Meanwhile, Thimphu reported 11 new cases today with one community case from Kabesa. Kabesa also recorded seven contact cases, and the rest are from facility quarantine. The capital last detected a community case on February 11. After a four-day mass testing, Thimphu was declared a low-risk and opened up since Sunday.
In Samtse, seven contacts of earlier cases from Gomtu, Dorokha and Samtse tested positive today. And a contact of an earlier case in Nganglam of Pema Gatshel also tested positive for COVID-19 in the last 24 hours.
Meanwhile, 188 individuals recovered today after testing negative for COVID-19 while in isolation.
Sonam